If you came to this page directly and do not see a navigation frame on top, please go to the home page.
| | |
| --- | --- |
| ČESKÁ REPUBLIKA | CZECH REPUBLIC |
| Moravskoslezský kraj | North Moravia and Silesia (Ostrava) region |
| Okres: Frýdek-Místek | |
map →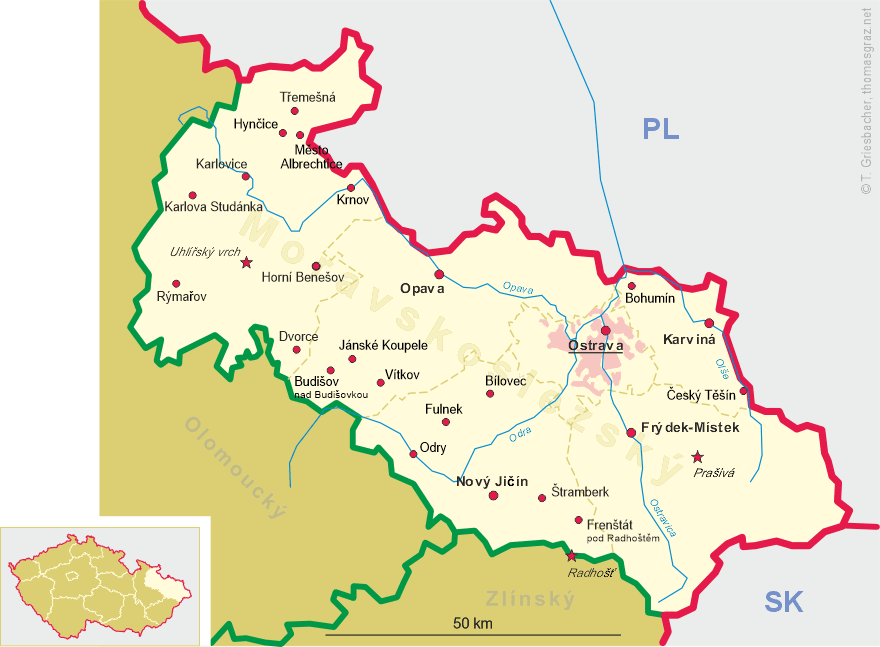 Prašivá
• pl: Praszywa
The Prašivá (843 m) is a hill in the Moravian-Silesian Beskids. The ridge starts at the peak of the Mala Prašivá (706 m) and is also connected to the Čupel (872 m). The top is located in the cadastral areas of Vyšní Lhoty and Komorní Lhotka. For tourists it is accessible from Vyšní Lhoty (bus), Dobratice (train) and Komorní Lhotka.
The Roman Catholic

church of St. Anthony of Padua [left] is a wooden chapel standing on top of the Mala Prašivá (Prašivka) and is a significant pilgrimage site in the area of Český Těšín. The church was built in 1640 and was originally dedicated to St. Igantius of Loyola. At that time it was a filial church of the parish of Frýdek although it was located within the area of the parish of Dobrá. The patrocinium was changed in 1791. In the following period, the church becae a popular pilgrimage site. After the Munich Agreement of 1938, the church became part of Poland (Zaolzie, Olza River area). In 1940, pilgrimages were definitely forbidden. After World War II, the area was restituted to Czechoslovakia. Pilgrimages took place again from the 1050s, although in the 1950s outdoor worship had been banned. Repairs and renovations took place in 1975, 2001–2005. A new turret was built in 2006.

[https://cs.wikipedia.org/wiki/Prašivá_(Moravskoslezský_Beskydy); https://cs.wikipedia.org/wiki/Kostel_svatého_Antonína_Paduánského_(Prašivá)]

---