If you came to this page directly and do not see a navigation frame on top, please go to the home page.
| | |
| --- | --- |
| ÖSTERREICH | AUSTRIA |
| Bundesland: Burgenland | |
| Bezirk: Güssing | |
map →
Güssing
• lt: 
Giusingas • hu: 
Németújvár • hr: 
Novi Grad, Novigrad
• ru: 
Гюссинг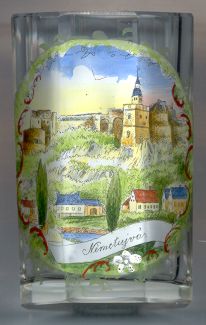 Güssing is situated at an elevation of 229 m in southern Burgenland at the foot of a steep hill (318 m) of porphyritic rock. The hill was first mentioned in 1157 (Quizin, later also Kiscen) as the site of a first wooden defense structure, which was replaced by a stone castle during the 12th century. This castle was first mentioned in 1198 (novum castrum). In 1522, the castle was given to Ferenc (Franz) Batthyány who had defended he country against the Turks. Since then, Güssing is the main seat of the Batthyány family. The Batthyánys were elevated to Hungarian barons in 1628, and Hungarian counts in 1630; the members of the younger line Batthyány-Strattmann were elevated to Imperial princes in 1764. At the end of the 17th century, the castle lost its importance as a stronghold and was neglected. From the mid 18th century onward, large parts of the castle were torn down. Since 1957, the remaining parts have been renovated and are used mainly for exhibitions. Since 1994, theatre performances in the castle are another tourist attraction of Güssing.

---