• be, bg, mk, ru, sr, uk: 
Марбург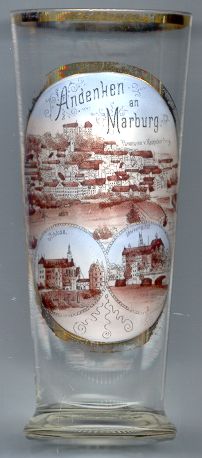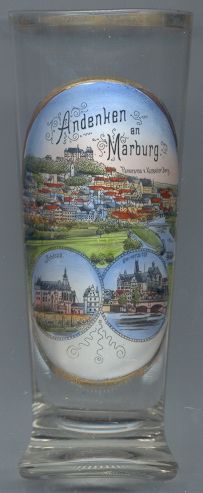 Marburg is situated at an elevation of 176 m on the river Lahn. The oldest traces of a castle on a rock above the river go back to the 9th and 10th centuries. Marcburg was first mentioned in 1138/39; it was then in possession of the Landgraves of Thuringia. From 1140on it had the status of a market town and also was the place of a mint where the famous 'Marburger Pfennig' was minted. By 1222 Marburg had obtained the status of a civitas, a town. Elisabeth of Thuringia (1207–1231), widow of the Landgrave, chose Marburg for her dowager seat. She founded the Francican hospital and devoted here life to the care for the sick until her death at the age of 24. Only four years after her death she was canonized as a Saint in 1235. Her daughter founded the Landgraviate of Hesse in 1248. The most famous landgrave probably was Philipp the Magnanimous (1509–1567). He introduced the reformation in his country and founded the first Protestant university, at Marburg, in 1527. In 1529 Philipp invited the reformers Martin Luther and Huldrych Zwingli. Their conversation in the castle of Marburg became know as the 'Marburger Religionsgespräch'. After Philipp's death in 1567 Hesse was divided between his four sons and Marburg became the residence of the line Hesse-Marburg, which, however, became extinct in 1604 when the first and only landgrave of Hesse-Marburg, Ludwig IV, died without heir. Hesse-Marburg was inherited by Hesse-Kassel and Hesse-Darmstadt; the town Marburg became part of Hesse-Kassel and lost its status of a residence.
Throughout the following centuries the importance of Marburg was founded on its university. During the early 19th century Marburg also was one of the centres of Romanticism; the 'Romantic Circle' comprised writers like Jakob and Wilhelm Grimm, Clemens Brentano, his sister Bettina von Arnim, or Friedrich von Savigny. The industrial development of Marburg only started, slowly, when the the railroads to Kassel (1850) and to Frankfurt am Main were opened in 1852. After the annexation of the Electorate Hesse-Kassel by Prussia, Marburg, and especially its university, experienced a flourishing period. The best-known teacher of that period is certainly Emil von Behring (1854–1917), professor of hygiene from 1895 until 1917. He was awarded the Nobel award for Medicine in 1902 for his development of immunization against diphtheria and tetanus. During World War II Marburg suffered little damage so that the old town could preserve its romantic appearance.
The bottom left picture shows the

castle (Schloss) of Marburg, situated high on a rock some 102 m above the river Lahn. The different parts of the castle date from the 11th up until th 18th century.
The bottom right picture shows the

university, more precisely the new buildings that were built in 1872–1891.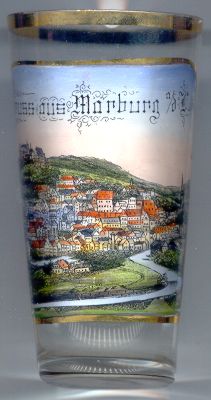 ---