If you came to this page directly and do not see a navigation frame on top, please go to the home page.
| | |
| --- | --- |
| DEUTSCHLAND | GERMANY |
| Bundesland: Freistaat Thüringen | Thuringia |
| Landkreis: Wartburgkreis | |
map →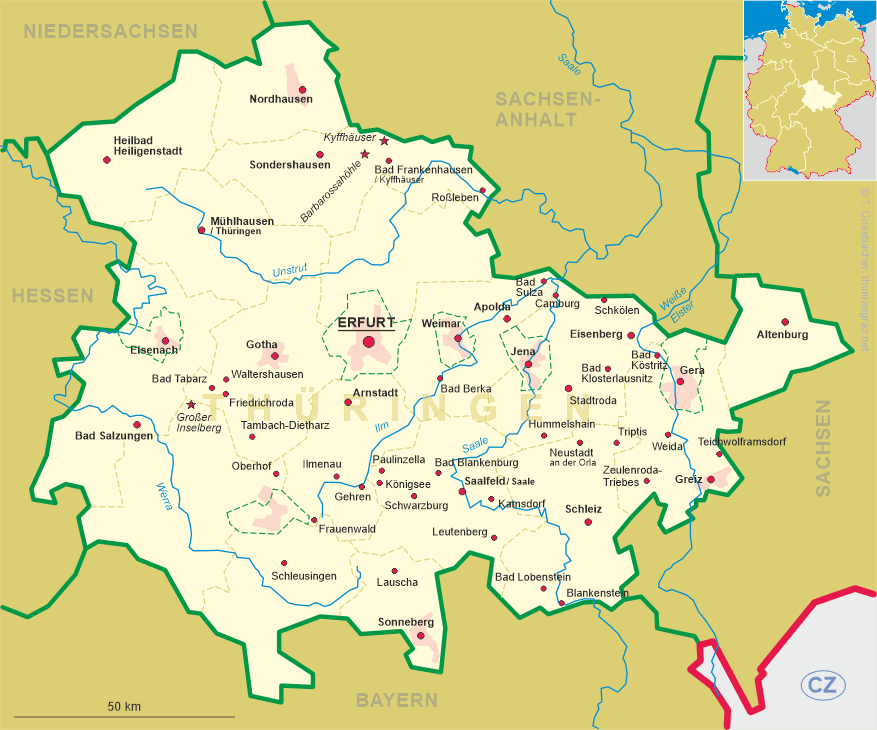 Bad Salzungen
• ru: Бад-Зальцунген
Bad Salzungen is situated at an elevation of 250 m in the Werra valley between the slopes of the Thüringer Wald and Rhön mountains. The first mention of Salzungen (Salsunga) in a document dates from AD 775 and confirms that salt production already existed at that time. By 1305, Salzungen had obtained the status of a town. Since 1814, the saline is used for therapeutic treatments. The first spa facility was established in 1822, the first spa hotel followed in 1852. The predicate 'Bad' (spa) was awarded in 1923. Since 1998, Bad Salzungen is the sole administrative centre of the district Wartburgkreis.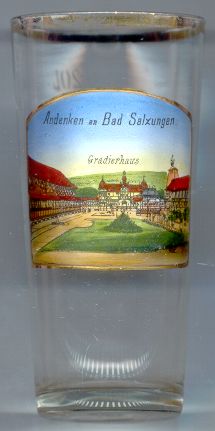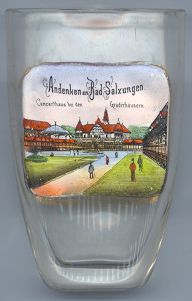 The

Gradierhaus (thorn house), which is depicted on glasses no. 1210 [far left], no. 2069 [near left, top picture], and no. 2039 [right], was built in 1901.
The

Kurhaus (spa hotel) [near left, no. 2069: bottom picture] is located at the lake Burgsee in in the spa park. It had originally been built as a sugar factory. After its conversion into the spa hotel it was opened on 18 August 1851. The building was demolished in 1937 and was replaced by a new, modern building in 1939.

---