If you came to this page directly and do not see a navigation frame on top, please go to the home page.
| | |
| --- | --- |
| DEUTSCHLAND | GERMANY |
| Bundesland: Nordrhein-Westfalen | North Rhine-Westphalia |
| Regierungsbezirk: Detmold | |
| Kreis: Lippe | |
map →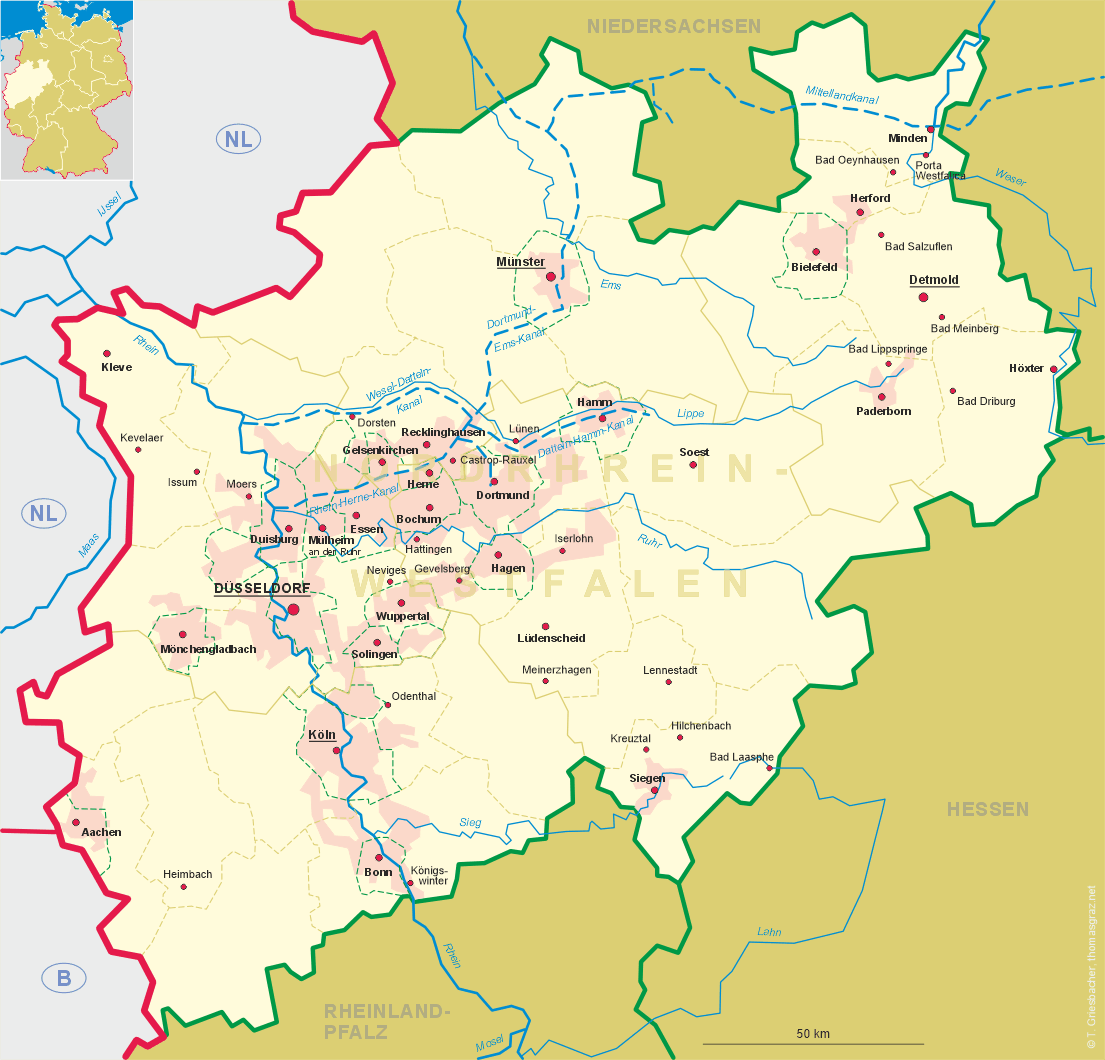 Detmold
• lv: Detmolda
• lt: Detmoldas
• el: Ντέτμολντ
• bg, mk, sr: Детмолд
• ru, uk: Детмольд
• be: Дэтмольд
Detmold is situated at an elevation of 147 m on the river Werra at the slope of the Teutoburger Wald mountains. Detmold is the administrative seat of the district Lippe and has a population of about 74,000 (2006).
The earliest written mention of Theotmalli dates from AD 783. It is supposed to be the place where Charlemagne defeated the Saxons in that year. The town Detmelle was founded by the Lords of Lippe in 1263. In 1550, Detmold became the residence of the counts (1789 princes) of Lippe. In 1815 the principality of Lippe became a member of the German Confederation (see map) and in 1871 it became a member state of the German Empire (see map). After World War I, Detmold became the capital of the free state state of Lippe within the German Republic (see map). When Lippe became part of the state of North Rhine-Westfalia in 1947, Detmold became the seat of the administration of the administrative district Detmold. On 1 January 1970, 25 neighbouring communities (Barkhausen, Bentrup, Berlebeck, Brokhausen, Dehlentrup, Hakedahl, Heidenoldendorf, Heiligenkirchen, Hiddesen, Hornoldendorf, Jerxen-Orbke, Leistrup-Meiersfeld, Loßbruch, Mosebeck, Niederschönhagen, Nienhagen, Niewald, Oberschönhagen, Oettern-Bremke, Pivitsheide Vogtei Heiden, Pivitsheide Vogtei Lage, Remmighausen, Schönemark, Spork-Eichholz, Vahlhausen and Cappel) were incoporated into the municipality of Detmold.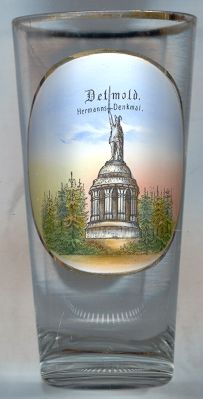 The

Hermanns-Denkmal [left] is a monument to commemorate the famous battle in the year AD 9, when Germanic tribes under the leadership of Arminius defeated the Roman legions under their general Publius Quinctilius Varus. The monument was built in 1838–1875 by the architect Ernst von Bandel on the Grotenburg hill (386 m) about 7 km from Detmold. The statue of Arminius (Hermann) is 26.5 m (87 ft) high, the base has a height of 27 m. Archeological excavations made since 1988 have shown that the actual site of the Battle was at Bramsche in Lower Saxony.

---