If you came to this page directly and do not see a navigation frame on top, please go to the home page.
| | |
| --- | --- |
| ÖSTERREICH | AUSTRIA |
| Bundesland: Oberösterreich | Upper Austria |
| Bezirk: Wels-Land | |
map →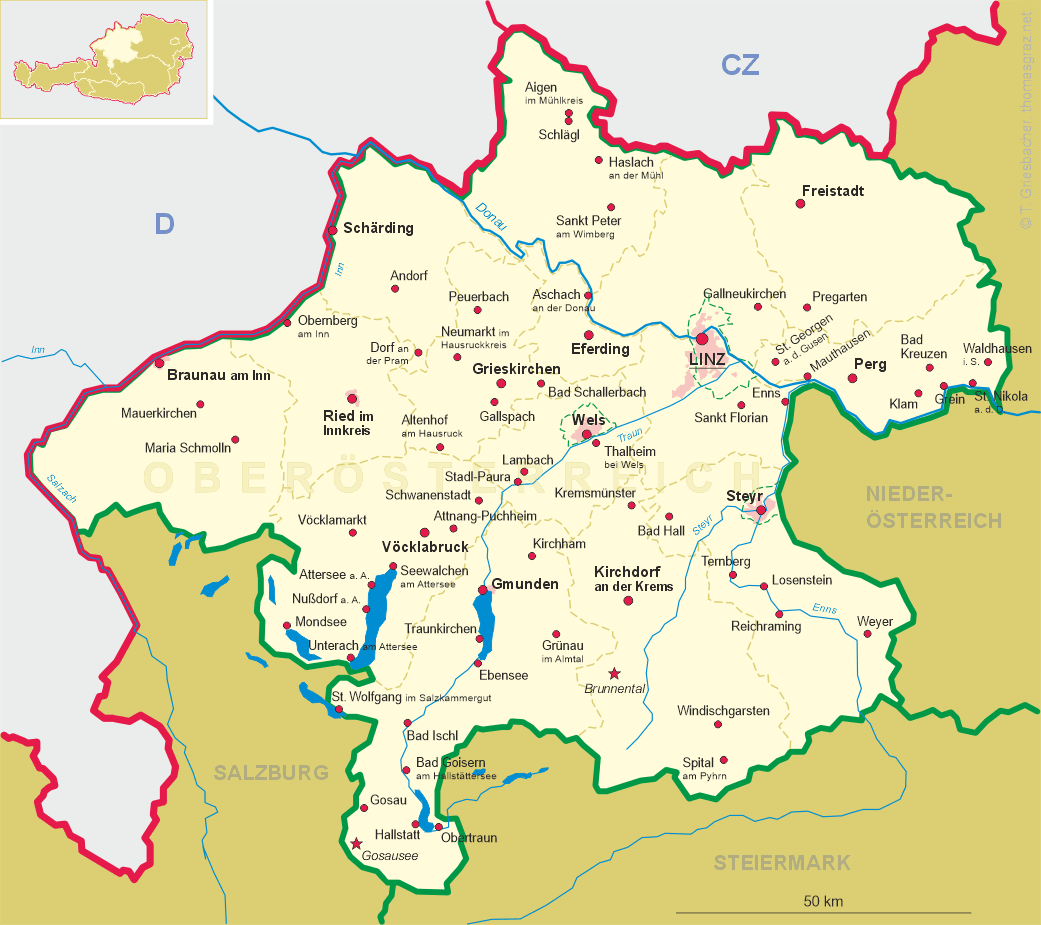 Thalheim bei Wels
• lt: Talheimas prie Velso
• ru: Тальхайм-бай-Вельс
Thalheim bei Wels is situated at an elevation of 315 m on the right bank of the river Traun, opposit the city of Wels. Already the Romans had built a fort on the Reinberg hill in order to protect the bridge across the river. The name Thalham was first mentioned in a document of AD 927. During the Middle Ages, Thalham became an trading town due to its location at this important river crossing. The municipality of Thalheim was formed in 1875 by merging Thalheim with neighbouring villages. The former wooden bridge was destroyed by the river in 1899, and was replaced by an iron bridge in 1901. This bridge is still in use today. Plans of 1938 to combine Thalheim with Wels into a single city were abandoned because of protests of the citizens.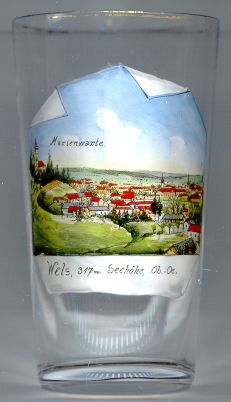 Although the picture on glass no. 273 is labelled Wels, most of the buildings shown in the picture actually are part of Thalheim (only the top right part of the picture shows the city of Wels).
The

Marien-Warte [top left] on the Reinberg was built in 1892. The lookout tower has a height of 23 m.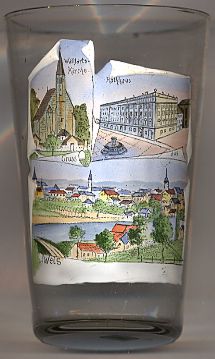 Glass no. 1674 [near left] also is a souvenir from Wels. However, the top left inset shows a view of the

pilgrimage church Maria Schauersberg, which is located in the municipality of Thalheim bei Wels. The church was built in late Gothic style and was dedicated around 1490. The main altar dates from the Baroque period and was created in 1665 by the sculptor Johann Seitz from Passau. The object of veneration is the statue of Our Lady and the Infant Jesus which dates from 1470–1480. In 1777 the statue was moved from its prior position on the right side altar to the main altar . Until the period of Emperor Josef II it had been customary to dedicate precious clothes for dressing the statue. When the emperor prohibited this tradition, a wooden cloak was carved instead. However, since this wooden cloak could not be formed to include the original right arm of the statue of Our Lady, this part of the statue was cut off and was replaced by a new one.
Another glass in this collection is a souvenir from Thalheim / Erzgeb., Germany.

[http://de.wikipedia.org/wiki/Thalheim_bei_Wels#Wallfahrtskirche_Maria_Schauersberg]

---