If you came to this page directly and do not see a navigation frame on top, please go to the home page.
| | |
| --- | --- |
| DEUTSCHLAND | GERMANY |
| Bundesland: Freistaat Sachsen | Saxony |
| Landkreis: Zwickau | |
map →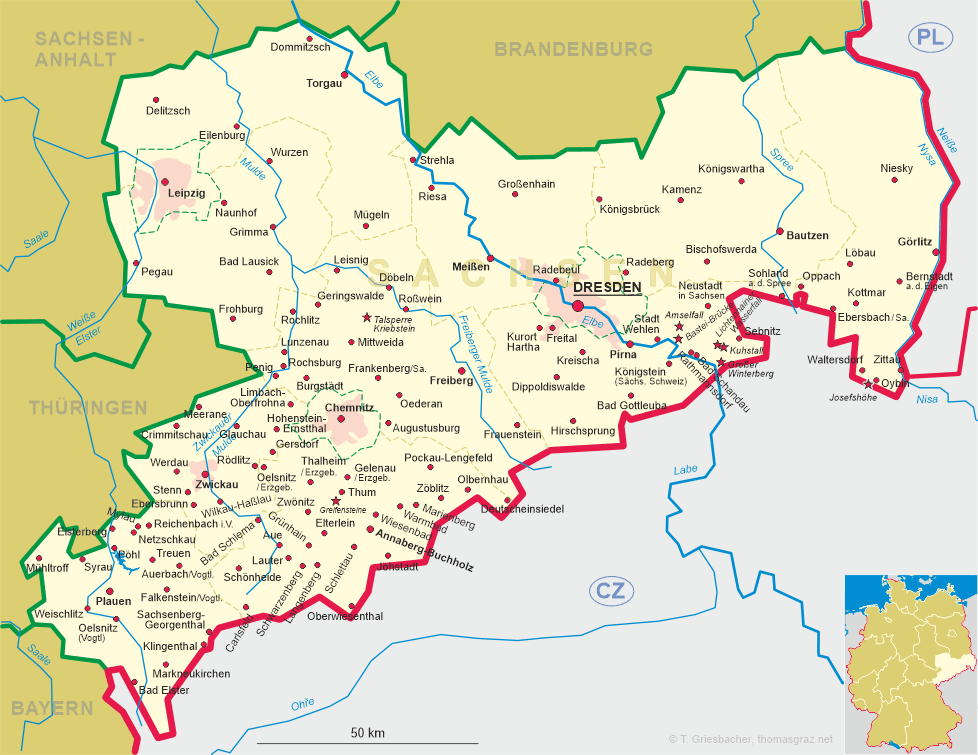 Zwickau
• lt: Cvikau
• lv: Cvikava
• cs: Cvikov
• hsb: Cwikawa
• pl: Ćwików
• dsb: Šwikawa
• el: Τσβίκαου
• bg, mk, sr: Цвикау
• ru: Цвиккау
• be: Цвікау
• uk: Цвіккау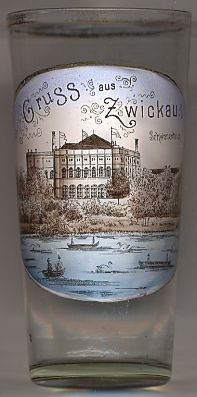 Zwickau is situated at an elevation of 302 m on the river Zwickauer Mulde in western Saxony. It was first mentioned in a document in 1128, and by 1212 had obtained the status of a town (oppidum). Mining for silver in nearby Schneeberg began at the end of the 15th century and initiated a period of wealth for Zwickau, which lasted until the Thirty Years' War (1618–1648) and finally ended with the Seven Years' War (1756–1763). The industrialisation began in the mid 19th century with the mining of coal in the local area (which ended only in 1978). Automobile production in Zwickau began in 1909 (Horch, which later continued as Audi, Trabant from 1958 until 1991, today production for VW).
The most famous sons of Zwickau are the composer Robert Schumann (1810–1856) and the Expressionist painter Max Pechstein (1881–1955).
The

Schwanenteich (Swan Lake) [left] was created as a fish pond in 1473.
The

Schwanenschloss [background] was opened in 1836.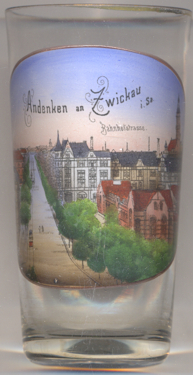 Glass no. 3442 [near left] shows a view of

Bahnhofstraße (Station Road). The first, wooden, railway station building was built in 1845 when Zwickau was connected, via a branch line, to the railroad Leipzig–Hof. This was replaced by a stone building in 1858. At the same time, Bahnhofstraße was laid out and was developed until 1910 in its present form. The building in the foreground right is a part of the

Königliches Krankenstift (Royal Hospital Foundation), built in the years after 1841 and enlarged in 1848, 1850 and 1860. Additional hospital pavillions were added in 1893, 1898, 1904 and 1906. In 1911, due to the heavy traffic in the local area and industrial emissions, a new hospital was planned in the city district Marienthal. This new hospital (now named Staatliches Krankenstift, State Hospital Foundation) was opened in 1921.
[https://de.wikipedia.org/wiki/Zwickau_(Sachs)_Hauptbahnhof; https://books.google.at/books?id=2gvhBFgrovQC&pg=PA76&lpg=PA76&dq=zwickau+bahnhofstra%C3%9Fe+angelegt&source=bl&ots=6QCJWORdm_&sig=I3MTeu_7_D7bs6CpEtFu_vZYTho&hl=de&sa=X&ved=2ahUKEwi6prW8grLcAhVNiKYKHeHdArgQ6AEwBnoECAYQAQ#v=onepage&q=zwickau%20bahnhofstra%C3%9Fe%20angelegt&f=false]
Another glass of this collection is a souvenirs from Cvikov (previously in German: Zwickau in Böhmen), Czech Republic.
Planitz
Planitz is a city district of Zwickau. Planitz was incorporated into the municipality of Zwickau in 1944. The area was settled aoround 1100 by Slavic tribes. German settlers followed around 1150. The two villages of Oberplanitz and Niederplanitz were united in 1923. Planitz obtained the official status of a town in 1924. Planitz had been famous for the so-called Planitzer Erdbrand, a coal seam fire that started in 1476 and lasted for almost 400 years as it only could be extinguished in 1860.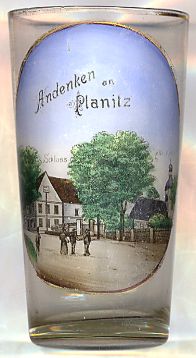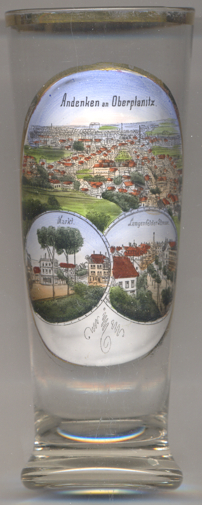 Schloss Planitz (Planitz Manor House) [left, no. 2590] goes back to the 12th century. The present, Baroque, structure was built in 1721 by one of Germany's most notable noble families, the von Arnim. The manor park was laid out in 1868–1872. The private ownership ended in the first half of the 20th century. The manor house then was used as town hall, soldiers' hospital and, during the period of the German Democratic Republic, as police academy and headquarters of the Transport Police. Since the renovation, which was carried out between 1991 and 1993, the building is home of the Clara-Wieck-Gymnasium, a school which emphasises on musical studies. The school is named for Clara Wieck, the famous pianist and wife of the composer Robert Schumann.
Glass no. 3195 [right] shows views of the village Oberplanitz, which was merged with Niederplanitz in 1923 to form the formerly independent municipality of Planitz (see above):
Top picture: panorama of Oberplanitz.
Bottom left picture: view of the

market.
Bottom right picture: view of

Lengenfelder Straße.

---