If you came to this page directly and do not see a navigation frame on top, please go to the home page.
| | |
| --- | --- |
| DEUTSCHLAND | GERMANY |
| Bundesland: Mecklenburg-Vorpommern | Mecklenburg-West Pomerania |
| Landkreis: Mecklenburgische Seenplatte | |
map →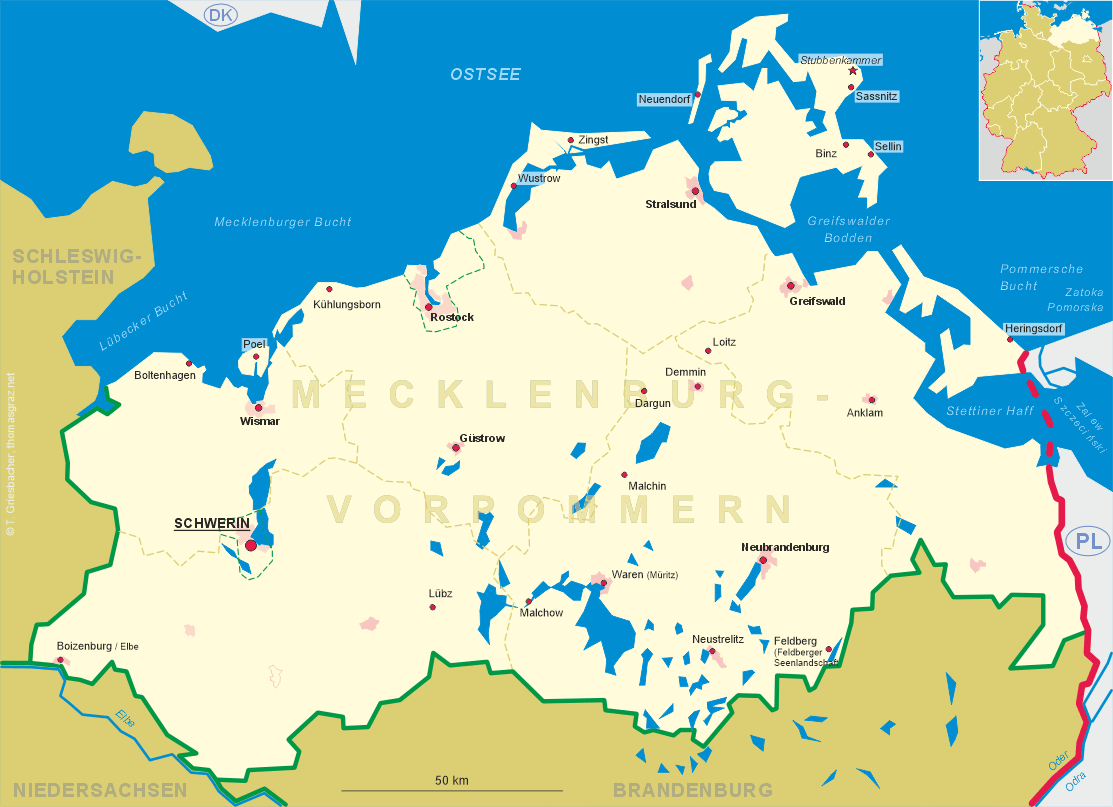 Neubrandenburg
• pl: Branibór Nowy
• lv: Neibrandenburga
• fr: Neubrandenbourg
• lt: Neubrandenburgas, Noibrandenburgas
• dsb: Nowy Branibor
• es: Nuevo Brandeburgo
• ru: Нойбранденбург
• sr: Нојбранденбург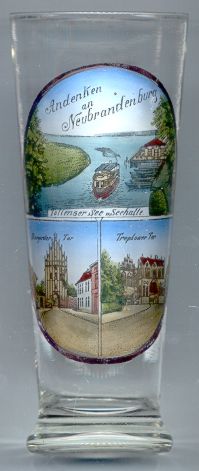 Neubrandenburg is situated at an elevation of 14 m on the lake Tollensesee in southeastern Mecklenburg-Vorpommern. The town was founded by Herbort von Raven for Margave Johann I of Brandenburg in 1248. In 1292, the town came into possession of the Princes of Mecklenburg. The circular outline of the historic city and the rectangular grid of the streets still can be seen today. The town fortifications, dating from around 1300, are still almost fully preserved. The old town was destroyed by almost 80% in 1945, when Neubrandenburg was captured by the Red Army. Since 1952, the historic inner part of the town is under renovation.
The

Stargarder Tor [bottom left] is one of the four original town gates of Neubrandenburg. The tower of the inner gate, which is depicted on the glass, dates from after 1350. In 1401/1450 a second outer gate was added to it.
The

Treptower Tor [bottom right picture, left part] was built around 1400. Like the Stargard Gate, it received an outer second gate [bottom right picture, right part] in 1401/1450.
The lake

Tollensesee [top picture] (11 km long, 2.5 km wide, up to 34 m deep) is a popular recreation area.

---