If you came to this page directly and do not see a navigation frame on top, please go to the home page.
| | |
| --- | --- |
| BELGIË / BELGIQUE / BELGIEN | BELGIUM |
| région/gewest/Region: Wallonie / Wallonië / Wallonien | region: Wallonia |
| province/provincie/Provinz: Liège / Luik / Lüttich | |
map →
Eupen
de, nl: 
Eupen
fr: 
Néau

• lt: 
Epenas
• el: 
Όϊπεν
• sr: 
Епен • uk: 
Ейпен • bg: 
Ойпен • be, ru: 
Эйпен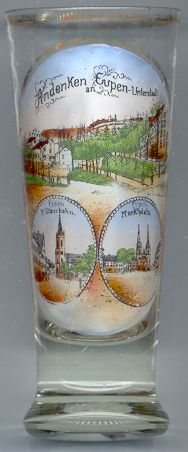 Eupen is situated at an elevation of 305 m at the northern slopes of the Hoher Venn mountains of eastern Belgium. Eupen was first mentioned in a document of 1213. At that time, the region was part of the Duchy of Limburg. When the ducal family became extinct in 1288, the Dukes of Burgundy succeeded in their struggle with Cologne, Geldern and Luxembourg, and Eupen became part of the combined Duchy of Brabant and Limburg. Together with Brabant it came to Burgundy in 1387, and to Austria in 1477. In 1555 the region came in possession of the Spanish line of the Habsburgs. In 1648, Eupen became immediate to the Holy Roman Empire, and was chartered as a town in 1674. In 1700 Eupen was conquered by France, but was handed over to Austria after the Peace of Utrecht in 1713. In 1795 it was again annexed by France and became part of the Département Ourthe. After the Congress of Vienna it became part of the Prussian Rhine province. Although about 80% of the population were German-speaking, Eupen and Malmédy became part of Belgium after a (non-secret) referendum in 1920. In 1924–1926 there were some plans to restitute these areas to Germany, but this was opposed by France. Only between 1940 and 1944 Eupen was again under German administration.

The top picture on glass no. 1408 [left] shows a scenic view of the

Unterstadt (Lower Town) of Eupen.

The bottom left picture shows the square Klötzerbahn with the Protestant

Friedenskirche (Peace Church) which was built in 1851–1855.

The bottom right picture shows the Marktplatz (Market Square) with the Catholic

Nikolauskirche (Church of St. Nicholas) which dates from 1724.

---