If you came to this page directly and do not see a navigation frame on top, please go to the home page.
| | |
| --- | --- |
| DEUTSCHLAND | GERMANY |
| Bundesland: Hessen | Hesse |
| Regierungsbezirk: Kassel | |
| Landkreis: Waldeck-Frankenberg | |
map →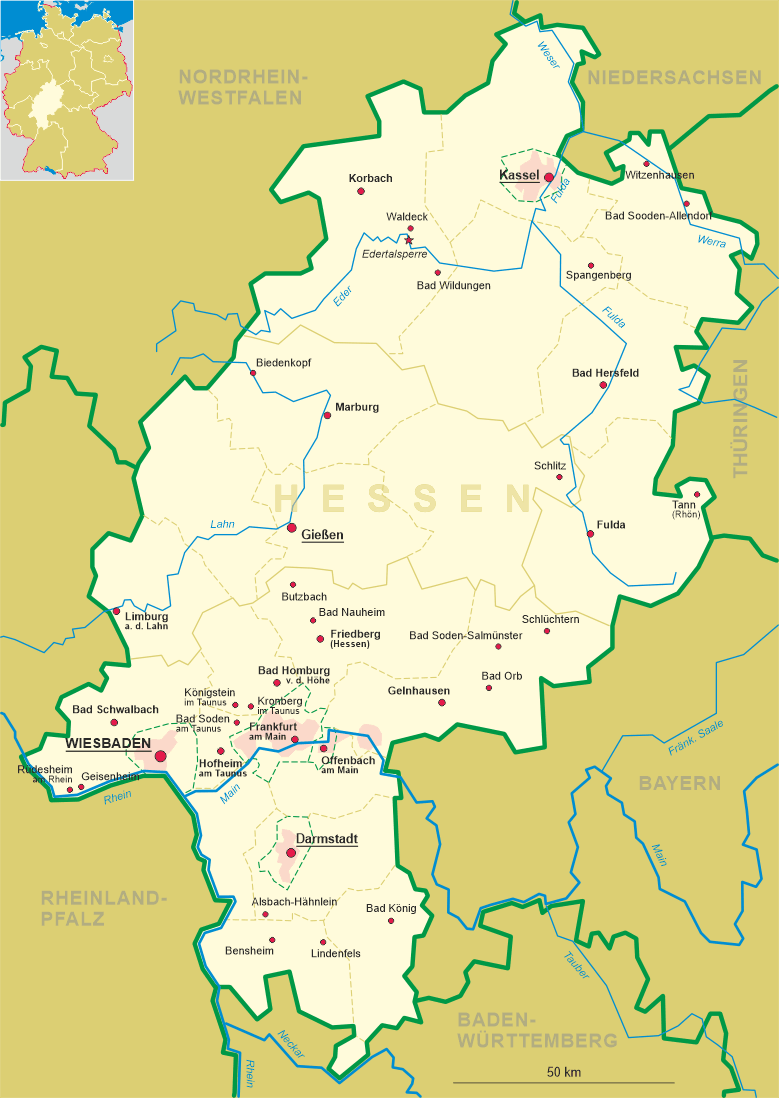 Waldeck
• el: Βαλντέκ
• bg, mk, sr: Валдек
• ru, uk: Вальдек
• be: Вальдэк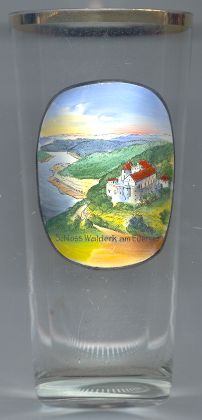 Waldeck is situated at an elevation of 250 m on the river Eder in northern Hesse. The place was first mentioned in 1120 as Waldekke. The counts of Waldeck became sovereign in 1349 but in 1341/48 lost the sovereignty to Hessen (later Hessen-Kassel). In 1625 the counts also acquired Pyrmont. In 1648 the counts became sovereign again and in 1682 (hereditary in the main line in 1711) obtained the rank of Princes. In 1815 the principality joined the German Confederation (see map). The formal overlordship by Hessen-Kassel was ended in 1847 by a decision of the Confederation. Since 1868 the principality was administered by Prussia. After World War I the Free State of Waldeck-Pyrmont was created in 1918 (see map of the Weimar Republic). In 1922 Pyrmont became part of Prussia, the remaining part of Waldeck followed after a plebiscite in 1929. After World War II, Waldeck became part of the new state of Hesse while Pyrmont became part of Lower Saxony..

Waldeck castle [left] was first mentioned in 1120. Until 1665 it remained the residence of the Counts (later Princes) of Waldeck. The residence was then moved to Arolsen, where the counts had already built a new residence in 1526. The castle later served as armoury, corn storage, as seat of a administrator, prison, as a camp for prisoners of war, and as a the seat of the local forest administration. Today the castle is a museum.
The lake

Edersee was formed when the dam of the river Eder (Edertalsperre) was built in in 1908–1914. The dam is 47 m high and has a length of 400 m. The lake is 27 km long and has a capacity of 202 million cubic meters. The original dam was destroyed by a British 'dam buster' bomb in the night of the 16th/17th of May, 1943, but was restored within one year.

---