If you came to this page directly and do not see a navigation frame on top, please go to the home page.
| | |
| --- | --- |
| ITALIA | ITALY |
| regione: Trentino - Alto Adige | South Tyrol |
| Provinz/provincia: Bozen / Bolzano |   |
map →
Brixen / Bressanone
• es:
Bresanona • lt:
Bresanonė • it:
Bressanone • de:
Brixen, Brixen am Eisack • lld:
Persenon, Porsenù
• el:
Μπρίξεν, Μπρεσσανόνε
• bg, sr:
Бриксен, Бресаноне • ru:
Бриксен, Брессаноне • uk:
Бріксен, Брессаноне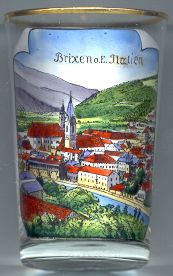 Brixen (Italian: Bressanone, Ladin: Porsenù; until 1919 German Brixen am Eisack) is situated at an elevation of 560 m at the confluence of the rivers Eisack (Isarco) and Rienz (Rienza). The wide basin was already inhabited about 10,000 years ago. During the 1st century AD a small settlement called Pressena or Brixina was founded by Roman soldiers. In 901 the area came in possession of the bishops of Säben (Sabiona). When the bishops transferred their seat to Brixen in 960/970 the settlements rapidly became a small town. Bishop Poppo was elected pope (Damasus II) in 1048, but died only 23 days after his election. The bishops became the sovereign rulers of their territory in 1179. However, most of the secular power was enacted by the bishops' bayliffs (the dukes of Andechs-Meranien, after 1241 the counts of Tirol [see also Meran]). By 1500 Brixen had become one of the most influencial bishoprics of the Holy Roman Empire. In 1797 Brixen was occupied by Napoleonic troops. The secularization of 1803 ended the secular rule of the bishops. After a period of Bavarian administration (1806–1814) the territory was incorporated into the Habsburg County of Tyrol in 1815 and thus became part of Austria. Around 1900 Brixen became one of the most important spa towns in South Tyrol next to Meran (Merano). After World War I Brixen, together with South Tyrol, became part of the Kingdom of Italy. Upon the installation of the diocese of Innsbruck in 1964, the seat of the bishops of Brixen was transferred to Bozen (Bolzano).
The

cathedral Mariä Himmelfahrt (Assumption of the Virgin Mary) [left] goes back to a Romanesque cathedral that was built when Brixen became the seat of the bishops in 960/970. Relevant parts of the west towers were already part of that early church. Around 1200 a Gothic church replaced most of the previous construction. The Gothic cloister is decorated with impressive frescos dating from several periods between 1390 and 1510. The present appearance of the church was created when it was rebuilt in splendid Baroque style in 1745–1758. Fifty different kinds of marble were used for the interior decorations. The magnificent ceiling paintings were executed by the famous Austrian painter Paul Troger. Although the seat of the bishop in 1964 was moved to Bozen (Bolzano), the church retained the status of a concathedral.
The most famous bishop of Brixen was the theologian Nikolaus von Kues (Nikolaus Cusanus; 1401–1464) who was head of the diocese from 1450 until 1461.

---