If you came to this page directly and do not see a navigation frame on top, please go to the home page.
| | |
| --- | --- |
| DEUTSCHLAND | GERMANY |
| Bundesland: Freistaat Thüringen | Thuringia |
| Landkreis: Saale-Holzland-Kreis | |
map →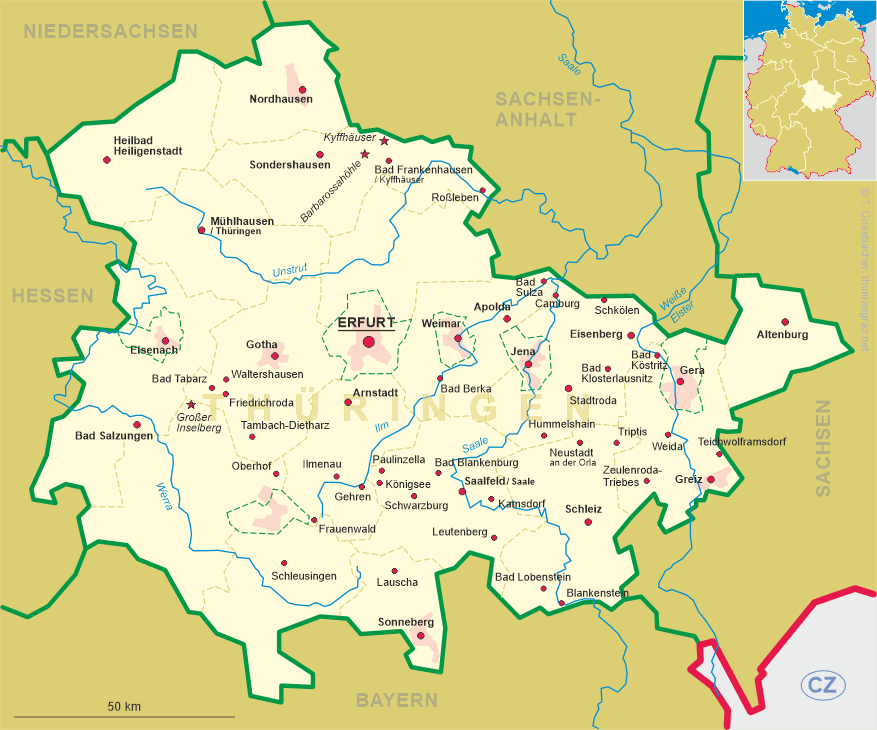 Eisenberg
• ru: Айзенберг
• sr: Ајзенберг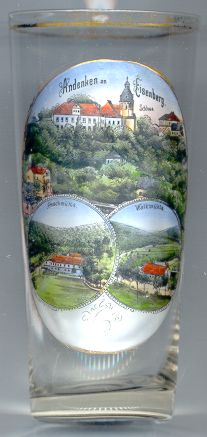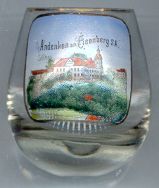 Eisenberg is situated at an elevation of 281 m in eastern Thuringia. The area had already been inhabited in prehistoric times. Eisenberg goes back to a former Slavic settlement which was located to the north of today's town centre and became the origin of the old town. A new town was then founded in the second half of the 12th century. This settlement was first mentioned as Isenberc in a document of 1171. After it had been destroyed in 1189, Eisenberg was moved to its modern location. The town was chartered in 1274. Until 1485 it was in possession of the Margraves of Meißen. After the division of the countries of the Wettin family, Eisenberg became part of the Ernestine countries (see chart of the Wettin dynasty). Between 1680 and 1707 Eisenberg was the residence of the (non-sovereign) Duchy Saxe-Eisenberg. When the only Duke, Christian of Saxe-Eisenberg, died in 1707, Eisenberg fell back to the line Saxe-Gotha-Altenburg. Upon the extinction of that line in 1825 it became part of the newly formed Duchy of Saxe-Altenburg (see map of the Thuringian States in 1826). In 1920 it became part of the state of Thuringia (see map of the Weimar Republic). Eisenberg became the administrative seat of the district Saale-Holzland-Kreis in 1994.

Eisenberg castle (Schloss Christiansburg) [top] was rebuilt by Duke Christian of Saxe-Eisenberg in 1680–1692. The splendid chapel of the castle is the most important Baroque church of Thuringia. The construction of the church was so expensive that it caused the bankruptcy of the small country. The magnificent organ was built by Christoph Donat Trost in 1681 and was modified by Heinrich Gottfried Trost in 1731/33 and 1749. The castle today is the seat of the district administration.
The valley of the river Rauda to the south of Eisenberg is a most romantic region. The river is lined by several historic mills. Two of them are shown on glass no. 1497:
The

Froschmühle [bottom left] was mentioned in 1662 as a property of the mayor. Its original name was 'Fröhlichsmühle'. Today it is used as a yuoth hostel.
The

Walkmühle [bottom right] was mentioned as a property of the lords of Gräfendorf in the 15th century. In 1662 it was owned by the town chronicler of Eisenberg. Today it is used as a restaurant.
The

Town Hall [left, no. 2248: left] on Market Square was built by connecting two buildings of 1579 and 1593. The building was enlarged in 1702. The Renaissance town hall boasts two towers and two richly decorated round-arched doorways.
The monument depicted on the right is the

soldiers' monument, erected after the French-German War of 1870/1871.

---