If you came to this page directly and do not see a navigation frame on top, please go to the home page.
| | |
| --- | --- |
| UNITED STATES OF AMERICA | |
| PENNSYLVANIA | |
| Luzerne County |   |
map →
Wyoming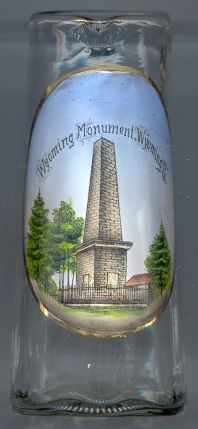 Wyoming borough is located about 5 miles northnortheast of Wilkes-Barre on the Susquehanna River in northeast central Pennsylvania. The Wyoming Valley, a 20 mile stretch of the Susquehanna river valley, was the scene of a long contest between Connecticut and Pennsylvania over conflicting land claims. After the Susquehanna Company purchased (1754) land there at the Albany Congress, a temporary settlement of the region in 1762–1763 led to the first permanent settlement in 1769. The First Pennamite War (1769–1771) between the Connecticut and Pennsylvania settlers ensued, but but despite this the rapid settlement of the area continued. In 1774, Connecticut set up the town of Westmoreland, from which representatives were sent to the Connecticut legislature. During the American Revolution, the valley settlers were attacked (July 3, 1778) by Loyalist commander John Butler and a party of Tories (loyals to England) and Iroquois Indians; more than 200 men, women, and children were killed. This "Wyoming Massacre" (or "Battle of Wyoming") is described in Thomas Campbell's poem, "Gertrude of Wyoming" (1809). In 1782 a Continental Congress court of arbitration decided to grant the land to Pennsylvania, but the Connecticut settlers refused to leave, and the Second Pennamite War (1784) ensued. Finally, through the Compromise Act of 1799, a settlement was reached between the Pennsylvania legislature and the Connecticut claimants.
The

Wyoming Battle Monument [left] marks the site where the remains of eighty-three victims of the Battle of Wyoming were buried in 1783. The monument was completed in 1843.

---