If you came to this page directly and do not see a navigation frame on top, please go to the home page.
| | |
| --- | --- |
| DEUTSCHLAND | GERMANY |
| Bundesland: Nordrhein-Westfalen | North Rhine-Westphalia |
| Regierungsbezirk: Arnsberg | |
| Stadt: Hamm | |
map →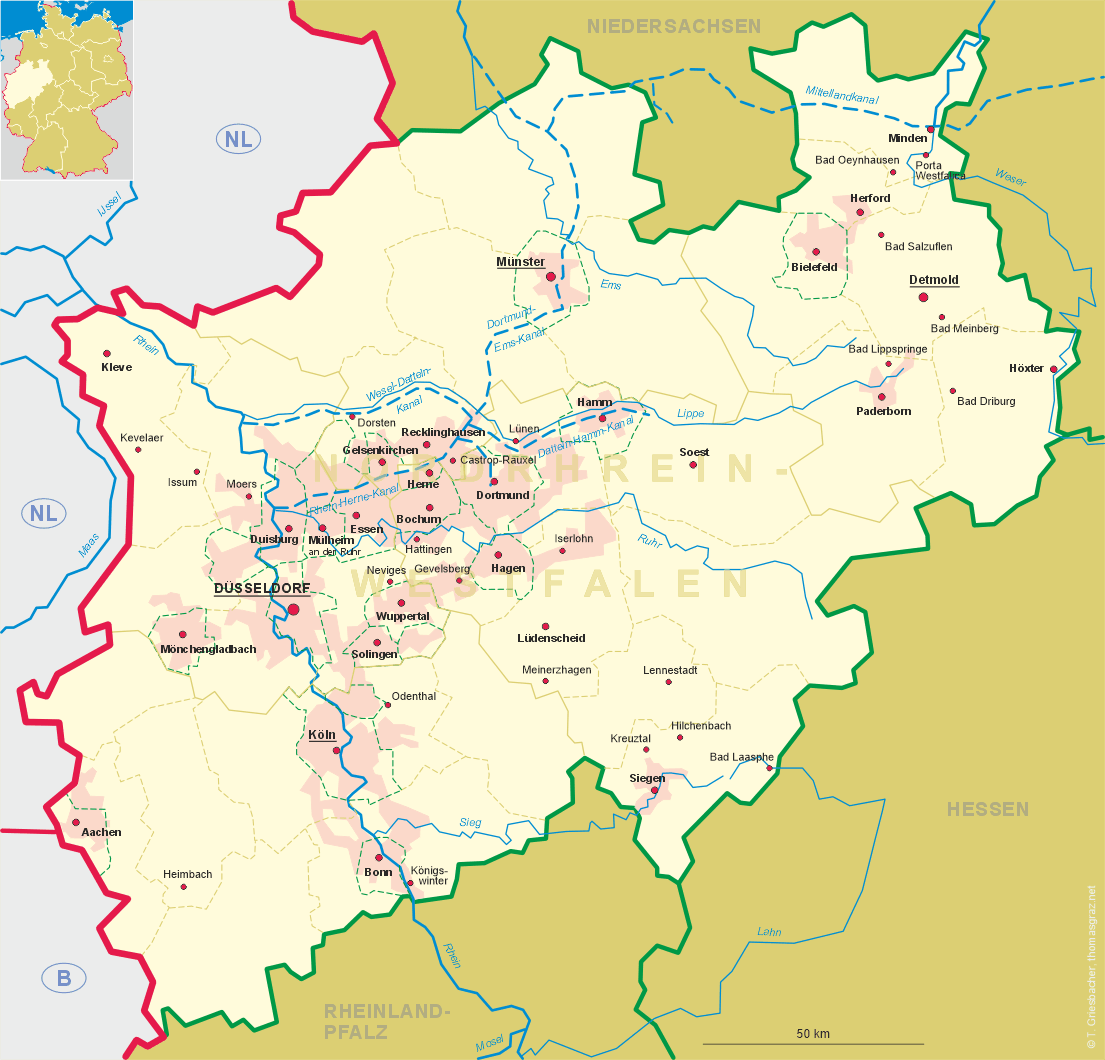 Hamm / Westfalen
• lt: 
Hamas • lv: 
Hamma
• bg: 
Хам • ru: 
Хамм

Hamm is situated at an elevation of 63 m on the river Lippe and the Datteln-Hamm canal in central North Rhine-Westfalia. Hamm was founded in 1226 by Count Adolf von der Mark for the people that had been displaced after the destruction of the town of Nienbrügge. Soon after that Hamm was chartered as a town. Due to its favourable positition at important trading routes which crossed the river here, the town soon flourished and became the residence of the Counts von der Mark. Between 1469 and 1651 Hamm was a member of the Hanse federation of trading towns. In 1368/98 the county was united with the county (1417 duchy) of Kleve (separate administration until 1461). In 1511/21 Kleve and Mark became a personal union with the duchy of Jülich and Berg. In 1614/1666 Kleve and Mark became part of the Electorate of Brandenburg while Jülich and Berg came to Pfalz-Neuburg. In 1807/08 the county of Mark was incorporated into the Napoleonic Grand Duchy of Berg. After the defeat of Napoleon and the Congress of Vienna in 1815 Hamm became part of the administrative district Arnsberg in the Prussian province Westfalia. New industries were introduced especially after the completion in 1847 of the railroad from Cologne to Minden. In 1901 Hamm became an independent city. The Datteln-Hamm canal was opened in 1914 and linked Hamm to the German inland waterway network.

---