If you came to this page directly and do not see a navigation frame on top, please go to the home page.
| | |
| --- | --- |
| POLSKA | POLAND |
| województwo: Opolskie | voivodship: Opole |
| powiat: Nysa | county: Nysa |
map →
Nysa
• de: 
Neisse, Neiße • cs, lv, sk: 
Nisa
• bg, sr, uk: 
Ниса • ru: 
Ныса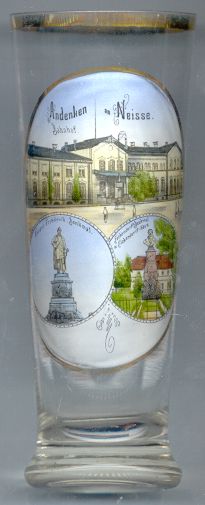 Nysa (German: Neiße) is situated at an elevation of 181 m on the river Nysa Kłodzka (Glatzer Neiße) in the southwest of the Opolskie region of southern Poland. It has a population of about 52,000 (2004).
Nysa is one of the oldest towns in Silesia. It was probably founded in the 10th century and afterwards became the capital of a principality of its name, which around 1200 became part of the bishopric of Wrocław (Breslau). The town received its first fortifications in 1350 so that Nysa could withstand the attacks of the Hussites in 1424. During the Thirty Years' War (1618–1648) it was besieged three times. The first Silesian War (1740/1741, War of the Austrian Succession) ended the Austrian sovereignty over Silesia and left Nysa in the hands of King Friedrich II of Prussia, who laid the foundations of its modern fortifications. On 25 August 1769 Neiße was the site of a meeting between Friedrich II of Prussia and Emperor Joseph II, co-regent in Austria. During the Napoleonic wars Nysa was taken by the French in 1807. Neiße retained its mostly Catholic character within the predominantly Protestant province of Upper Silesia in Prussia. Because of its many churches from the Gothic and Baroque periods the town was nicknamed "the Silesian Rome".
The bottom left picture on glass no. 1687 shows the

monument for Emperor Friedrich III who was German Emperor for only 99 days, from 9 March until his death on 15 June, 1888.
The bottom right picture shows the

monument for Joseph von Eichendorff. The famous German poet lived in Neiße from 1855 until his death in 1857. The monument was created in 1888 and was destroyed in 1945. The building in the background is Eichendorff's home. It was destroyed in March 1945.
The top picture shows the

railway station of Nysa.

---