Чэске-Будзеёвіцы, Чэске-Будзяёвіцэ
České Budějovice is situated at an elevation of 378 m at the confluence of the rivers Malše (Maltsch) and Vltava (Moldau). The town was founded in 1265 by King Přemysl Otakar II in order to strengthen his position in southern Bohemia. The regular ground plan of the city with its large central square are a masterpiece of medieval planning. During the Hussite wars of the 15th century, the town remained faithful to the Catholic faith. Due to its strong fortifications it was not even besieged like so many other towns of the area. During the 16th century, the old trading town grew further due to silver mining, bear brewing, fish farming and salt trading. During the Thirty Years' War (1618–1648), the town remained faithful to the Emperor, and for a short period of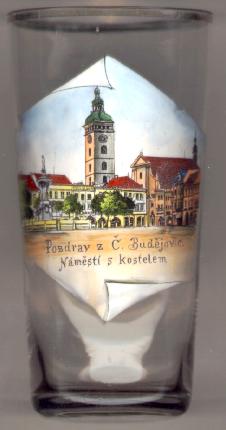 time even guarded the Bohemian crown jewels. After a large fire in 1641, which destroyed large parts of the town, the Baroque style added to the old Renaissance character of the town. During the 18th century, České Budějovice became the centre of the South Bohemian region. Since 1785 it is the seat of a bishop. The 19th century brought many technical innovations. Europe's first horse carriage railway between České Budějovice and Linz was constructed between 1825 and 1832. The Czech brewery, which later became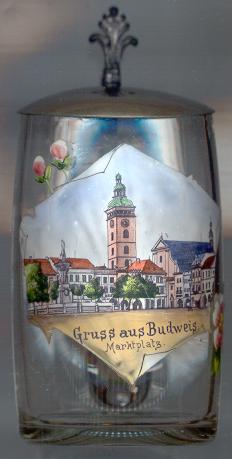 world-famous for its Budějovický Budwar (Budweiser Budvar) beer was opened in 1895.
České Budějovice's

central square [foreground] is named after King Přemysl Otakar II (náměstí Přemysla Otakara II). It is the largest square (1 hectare) in the Czech Republic.
The Baroque

Samson fountain [left] on the square was erected in 1721–1726 in order to supply the city with water from the Vltava river. The sculpture on top of the fountain shows Samson killing a lion.
The

Blach Tower (černa věž) [background] was built between 1550 and 1577. The original use of the tower (72 m high) was that of a bell and watch tower.
The

church of St. Nicholas (kostel sv. Mikulaše) [background right] was built in the 17th century after the fire of 1641 had destroyed the original Gothic church. In 1785 it became the cathedral of the newly established diocese of České Budějovice. The main altar dates from 1741.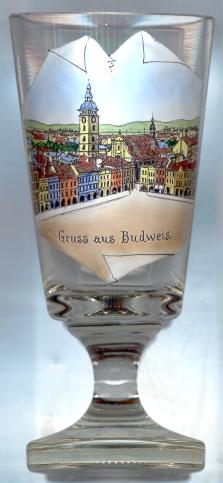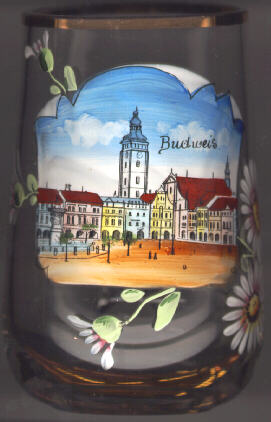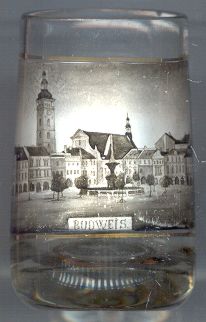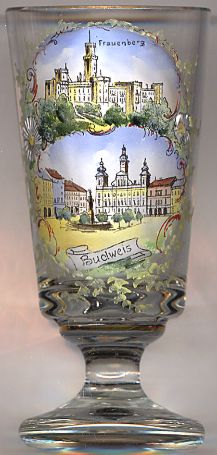 The

town hall [left, no. 2574: bottom picture: background] goes back to a Renaissance structure that had been built in the 16th century. In the first half of the 18th century it was rebuilt in Baroque style by the architect Antonio E. Matrinelli.
The top picture on glass no. 2574 shows a view of the castle of Hluboká nad Vltavou.

---