Подјебради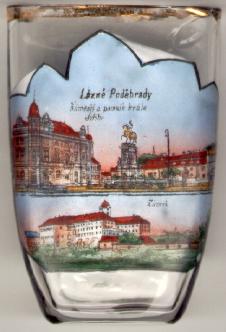 Poděbrady is situated at an elevation of 185 m on the river Labe (Elbe) in central Bohemia. The earliest mention of the place is found in a document of 1199. At first Poděbrady only was a small fortified seat protecting a ford across the river. As this position was strategically important, King Přemysl Otakar II decided to take control over this place.
The oldest parts of the

castle of Poděbrady [left, no. 406: bottom] were built by Otakar II in 1268. Since 1495 it was administered by the Royal Chamber. Major reconstructions in Renaissance style during the 16th century shaped the appearance of the castle. Another wave of reconstructions took place in the 18th century. Emperor Joseph II wanted to convert the castle into military barracks but the plans were cancelled later. Between 1920 and 1945 the castle was in possession of the city of Poděbrady. Today it is owned by the Charles University of Prague.
The

statue of George of Poděbrady (Jiří z Poděbrad, 1420–1471) [right] on the square in front of the castle remembers the best-known son of Poděbrady. He was the leader of Hussite movement of the Utraquists but also supported the rights of the under age Habsburg heir to the Bohemian throne, Ladislaus Postumus (1440–1457). From 1439 to 1458 George ruled Bohemia as gubernator and regent. After the death of Ladislaus, George of Poděbrady was elected King of Bohemia and was even accepted by Emperor Friedrich III. However, the King of Hungary, Matthias Corvinus, his son-in-law, was in strong opposition to him. After George of Poděbrady the Bohemian Crown passed to the Jagiellonian dynasty. Only in 1526 it was obtained by Habsburg again, so that from that time until 1918 Bohemia and Moravia, Austria and Hungary were united for almost 400 years.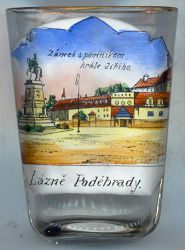 Poděbrady castle [left, no. 3149, and below right, no. 3240] goes back to a stome castle built by king Ottokar (Přemysl Otakar) II of Bohemia (r. 1253–1278). According to legend, King George of Poděbrady was born in the castle. The castle was rebuilt several times. Between 1548 and 1580, it was reconstructed to a Renaissance style. After the Thirty Years' War (1618–6´1648), the castle lost most of its importance. In 1723 and 1724, it was reconstructed in a Baroque style. Further modifications were made after 1750.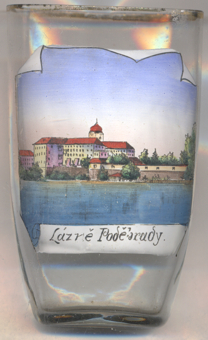 Poděbrady also is one of the major spas in Bohemia. In 1905 it was tried to improve the water supply by digging a well in the second court of the castle. At a depth of 90 m a strong mineral spring was found. Since 1907 thirteen mineral springs are used in Poděbrady for the treatment of cardiovascular diseases, endocrine and metabolic disorders and for reconditioning and rehabilitation programmes.
The picture on glass no. 0000 is labeled

Medical Institute (Léčebný ústav). The building was created in 1911/1912 by the Prague architect Jiří Justich as Hotel U krále Jiřího. At the time of its completion, the hotel offered unexpected comfort for such a small spa town. The hotel had 60 rooms, mostly with private bathrooms, a lift, home phone, French and dietetic kitchens, a café, a wine bar and a shady garden with a dance floor. After the spa company bought the hotel and invested into medical equipment, the 'Investigative and Medical Institute' opened in 1926. Today, the hotel is named Hotel Libenský for the founder of the Medical Institute, Prof. Václav Libenský.
[https://www.lazne-podebrady.cz/hotel-libensky]

---