If you came to this page directly and do not see a navigation frame on top, please go to the home page.
| | |
| --- | --- |
| DEUTSCHLAND | GERMANY |
| Bundesland: Freistaat Sachsen | Saxony |
| Landkreis: Mittelsachsen | |
map →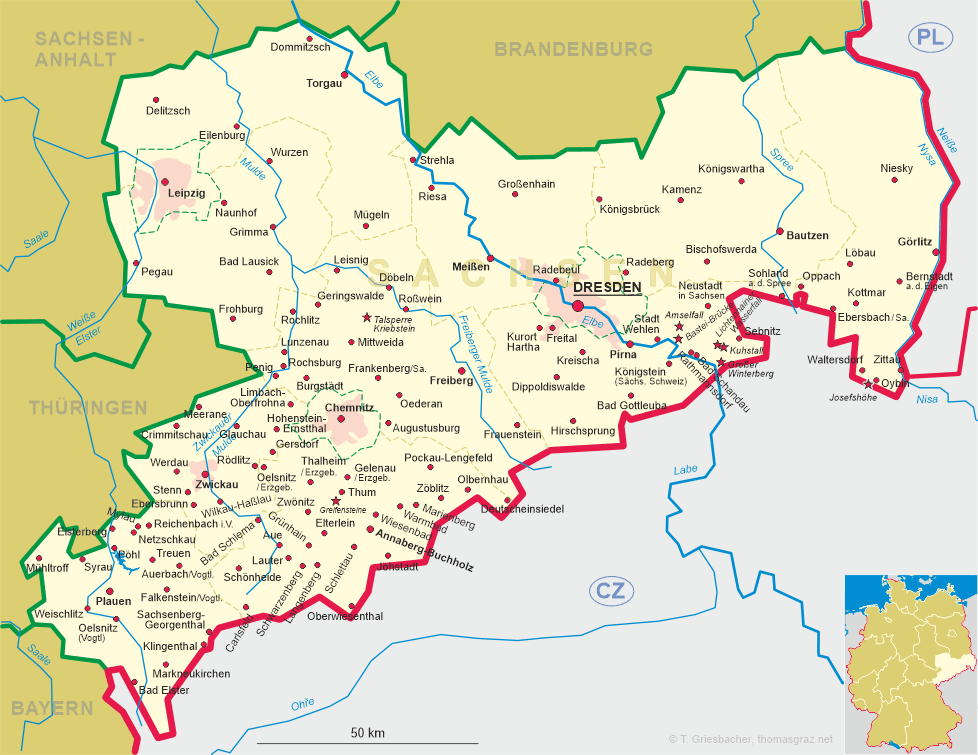 Burgstädt
• lv: Burgštete
• ru, sr: Бургштедт
• mk: Бургштет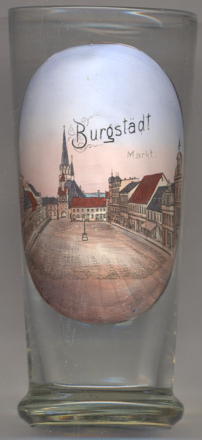 Burgstädt is situated at an elevation of 311 m about 15 km north of Chemnitz in Germany's state of Saxony. The municipality has a population of about 10,800 (2015) and inclludes the villages of Burkersdorf, Göppersdorf, Helsdorf and Mohsdorf.
The oldest document mentioning Burkissdorf vor dem stedil dates from 1378. The "stedil", the little town, certainly refers to what we know today as Burgstädt. Burgstädt itself was probably founded between 1270 and 1300 as a market place. The distinction between the place names Burkersdorf and Burgstädt became firmly established only in the 16th/17th century. The spellings of the names varied throughout the times; the modern spelling is in use since about 1821. At first Burgstädt was probably mainly a farming community. Several guilds were establised between the 16th and 18th century. Industrial clothmaking had its origin already in the late 18th century, and during the 19th century Burgstädt became a centre of calico printing in Saxony. In the 20th century several of the neighbouring communities were incorporated into the muncipality of Burgstädt: Heiersdorf in 1929, Burkersdorf and Göppersdorf (with Herrenhaide) in 1935, Helsdorf in 1974, and Mohsdorf (with Schweizerthal) in 1995.
The Protestant

town church [background centre] is the oldest building in Burgstädt. The origin of the church seems to have been a simple chapel built after 1450. The church was rebuilt around 1522 and the original chapel became the sacristy of the new church. In 1539, the church, until then Catholic, became Protestant. The church survived the large fire of 1650 that had destroyed most of the town; the damaged church was repaired until 1656. The church tower (63.5 m high) was completed in 1882. At the same time the church was renovated in Gothic revival style. Further extensive renovations were carried out in 1934.

Burkersdorf
Burkersdorf is situated at an elevation of 319 m about 2 km northnorthwest of Burgstädt. Since 1935 it is part of the unicipality of Burgstädt.
Glass no. 1929 [left] is labeled Schulfest Burkersdorf Juli 1903 ('school festival Burkersdorf July 1903').
Further glass in this collection produced as school festival souvenirs are from:
Pethau (Zittau) and Waltersdorf.
[https://de.wikipedia.org/wiki/Burgstädt; http://www.burgstaedt.de/burgstaedt/content/13/01122004132856.asp]

---