If you came to this page directly and do not see a navigation frame on top, please go to the home page.
| | |
| --- | --- |
| ČESKÁ REPUBLIKA | CZECH REPUBLIC |
| Pardubický kraj | Pardubice region |
| Okres: Svitavy |   |
map →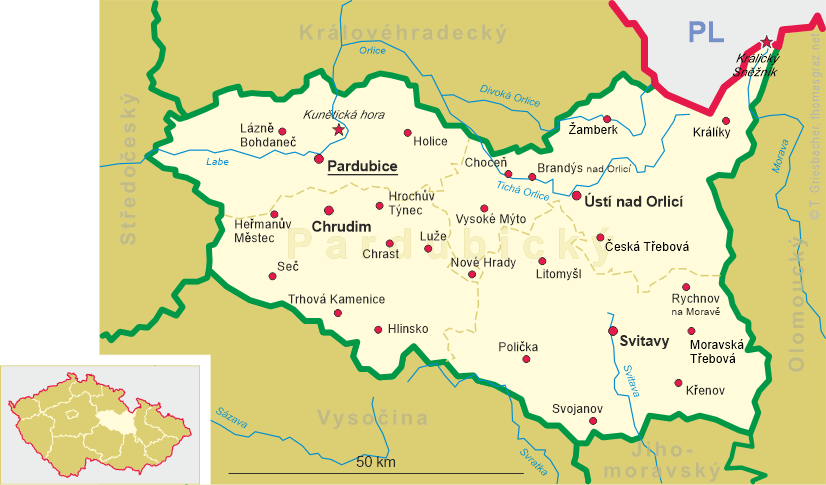 Křenov
• prev.: 
Křenov Třebova
• de: 
Krönau
Křenov is situated at an elevation of 476 m in the Svitavy district of the Pardubice region of the Czech Republic. The municipality has a population of about 400 (2017).
Crenowia was first mentioned in 1365 already as a small town (an earlier source of 1308, mentioning Crenaw, actually refers to another locality located near Olomouc). In 1398 Křenov lost its town status, but regained the town privileges in 1485. During the times of the Austrian Monarchy, it was part of the district Moravská Třebová (Mährisch-Trübau) in the Margraviate of Moravia. Since a rearrangement of the administrative district in the 1960s, the seat of the district is in Svitavy (Zwittau).
The

church of St. John the Baptist (kostel sv. Jana Křtitele) dates from the Baroque period for the Liechtenstein family. The church was completed in 1729.

[https://cs.wikipedia.org/wiki/Křenov_(okres_Svitavy); http://www.hrady.cz/?OID=3578]

---