• bg: 
Хага

Den Haag (officially also 's-Gravenhage; English: The Hage, with capital T) is the third largest city in the Netherlands, after Amsterdam and Rotterdam, with a population of 485,818 (2009) (population of agglomeration: 1,011,459) and an area of approximately 100 km². It is located in the west of the country, in the province of South Holland, of which it is also the provincial capital. Den Haag is, like Amsterdam, Rotterdam, Utrecht and Almere, part of the Randstad metropolitan area, with 6,659,300 inhabitants. Den Haag is the seat of government, but not the capital of the Netherlands, a role set aside by the Dutch constitution for Amsterdam. Since 1831 Den Haag is one of the residencies of the Dutch Royal family. Since 1602/03 the city council used the name s-Gravenhage instead of the older versions Die Haghe or Den Hag(h)e as the former was deemed to be more elegant. Since 1990 the municipality consistently uses the name Den Haag, although a proposal to officially rename the city was turned down.

Den Haag originated around 1230, when Floris IV, Count of Holland purchased land alongside a pond (now the Hofvijver) in order to build a hunting residence. In 1248 Willem II, Count of Holland and German anti-king (German king 1254), decided to extend the residence to a palace. Later, the counts of Holland used Den Haag as their administrative centre and residence when in Holland. Des Graven Hage literally means "the count's wood", with connotations like "the count's hedge or private enclosure". When the Dukes of Burgundy gained control over the counties of Holland and Zeeland at the beginning of the 15th century, they appointed a stadtholder (Dutch: stadhouder) to rule in their stead with the States of Holland as an advisory council. Their seat was located in Den Haag. At the beginning of the Eighty Years' War (1568–1648), the absence of city walls proved disastrous, as it allowed Spanish troops easily to occupy the town. In 1575 the States of Holland even considered demolishing the city, but this proposal was abandoned, after mediation by William of Orange. From 1588 Den Haag also became the location of the government of the Dutch Republic. In order for the administration to maintain control over city matters, Den Haag never received official city status (although it did have many privileges, normally only attributed to cities). However, since the days of King Louis Napoléon (Lodewijk I) (1806) Den Haag has been allowed to call itself a city. After the Napoleonic Wars, modern-day Belgium and the Netherlands were combined in the United Kingdom of the Netherlands to form a buffer against France. As a compromise, Brussels and Den Haag alternated as capital every two years, with the government remaining in Den Haag. After the separation of Belgium in 1830, Amsterdam remained the capital of the Netherlands, while the government was situated in Den Haag. When the government started to play a more prominent role in Dutch society after 1850, Den Haag quickly expanded. The growing city annexed the rural municipality of Loosduinen partly in 1903 and completely in 1923. Parts of the city sustained heavy damage during World War II. The Atlantic Wall was built through part of the city, causing a large quarter to be torn down by the Nazi occupants. On March 3, 1945, the Royal Air Force mistakenly bombed the Bezuidenhout quarter. After the war The destroyed areas were also quickly rebuilt and Den Haag expanded massively to the southwest. The population peaked at 600,000 inhabitants around 1965. Den Haag has eight official districts (stadsdelen): Centrum, Escamp, Haagse Hout, Laak, Leidschenveen-Ypenburg, Loosduinen, Scheveningen and Segbroek.

[Text adapted from http://en.wikipedia.org/wiki/The_Hague, http://de.wikipedia.org/wiki/Den_Haag]
Scheveningen
• el: 
Σεβενίνγκεν
• ru, sr: 
Схевенинген • uk: 
Схевенінген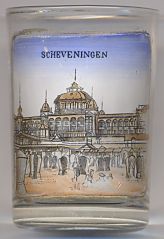 Scheveningen is a sea-side resort on the North Sea coast of South Holland. Today, Scheveningen is part of Den Haag ('s-Gravenhage).
The earliest reference to the name Sceveninghe goes back to around 1280. The first inhabitants may have been of Anglo Saxon or Scandinavian origin. Fishing was the main source of food and income. The Battle of Scheveningen was fought between English and Dutch fleets off the coast of the village on 10 August 1654. Throughout the centuries, Scheveningen was frequently hit by storms. After one of the storms, in 1894, it was decided to build a harbour. Until then, the fishing ships had a flat bottom (bomschuiten), and were pulled upon the beach. When the harbor had been constructed in 1904, more modern ships replaced the bomschuiten. The picturesque village attracted many Dutch artists over the centuries, to paint the bomschuiten drawn up on the beach, or fishermen at work in the North Sea. Notable painters who recorded the village include Adrian van de Velde, Simon de Vlieger and Hendrik Willem Mesdag, whose enormous panorama, 14 m high and 120 m around, preserves the view of Scheveningen in 1881.
In 1818 a wooden building was constructed on a dune near the sea, from where people could bathe from 4 separate rooms. It marked the start of Scheveningen as a bathing place. Since then, Scheveningen has attracted numerous tourists from all over Europe.
During the period of the German occupation of the Netherlands, The Nazis used the prison of Scheveningen to imprison political opponents (who nicknamed the prison 'Oranje Hotel'). Today, the United Nations Detention Unit at Scheveningen is used for pre-trial confinement and as prison of the International Criminal Court and the International Criminal Tribunal for the former Yugoslavia.
The

Kurhaus hotel [left] was originally built in 1884–1885 and was rebuilt after a fire in 1886–1887. The Kurhaus was designed by the german architects Johann Friedrich Henkenhaf and Friedrich Ebert. In 1975 the building was put under monumental protection. After a renovation it was reopened in 1979.
In chess, the 'Scheveningen Variation' (1.e4 c5, 2.Nf3 d6, 3.d4 cxd4, 4.Nxd4 Nf6, 5.Nc3 e6) is a variation of the chess opening known as the 'Sicilian Defense', first played in a tournament in Scheveningen.
[Text adapted from http://en.wikipedia.org/wiki/Scheveningen, http://en.wikipedia.org/wiki/Kurhaus_(Scheveningen), http://en.wikipedia.org/wiki/Sicilian_Defence,_Scheveningen_Variation]

---