Хавличкув Брод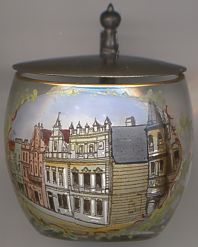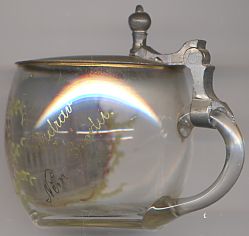 Havlíčkův Brod is situated at an elevation of 422 m at the Sázava river in the north of the Vysočina (highlands) region of southeastern Bohemia. The district town has a population of about 24,300 (2006).
The earliest settlement in Brod has been documented as far back as the 12th century. After silver was discovered in the area, German miners were invited to settle the area. The new town Brod received its city rights in 1257. In the 13th and 14th centuries it was a center for silver mining, although its importance gradually declined in the latter century. Because the German townspeople supported King Sigismund during the Hussite Wars, Brod was sacked on January 22, 1422 by the Hussite leader Jan Žižka. The town was resettled in 1429 and experienced a cultural flowering during the 16th and 17th centuries. Brod was industrialized during the 19th century with an emphasis on textiles, and became an important railway junction. After World War II the town's German population was expelled in 1945. In the late 1980s Brod's historical town center was declared a national treasure.
The Czech word Brod means "ford" in English. Because the town was originally founded by Smil of Lichtenburk, Brod's original name was Smilův Brod ('Ford of Smil' or 'Smilford'). Because of its predominantly German population, the town was renamed in 1310 to Německý Brod in Czech and Deutsch Brod (also frequently spelled Deutschbrod) in German (both meaning 'German Ford'). After the expulsion of the Germans in 1945, the town in 1950 was officially renamed Havlíčkův Brod ('Ford of Havlíček') in honor of the 19th century writer Karel Havlíček Borovský (1821–1856) who was born in nearby Havlíčkova Borová near Přibyslav and who entered school in Brod in 1832.
[Text adapted from http://en.wikipedia.org/wiki/Havlíčkův_Brod]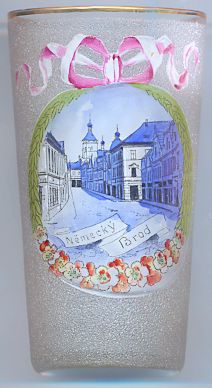 The

Church of the Assumption of the Virgin Mary is located in the north-east corner of Havlíček Square. This original early Gothic building has been rebuilt several times. In 1707, a Baroque dome was added to roof the building. The massive four-side, four-storey tower houses one of the oldest Czech bells which was cast around 1335. Its name is Vilém (William), whereas the remaining two bells are called Václav (Wenceslaus) and Barbora (Barbara). The old Czech clock with a 24-hour face is another interesting feature of the church. The tower is open for the public and offers a unique view over the town and its surroundings. [Text adapted from http://www.muhb.cz/vismo/dokumenty2.asp?u=3782&id_org=3782&id=255577&p1=29986]
The

Column of the Virgin Mary, located in the centre of Havlíček Square, was erected in 1715. The sculptor most likely was Giovanni Battista Bulla. The statues on the pedestal surrounding the column depict St. Andrew, St. Florianus, St. John of Nepomuk and St. Wenceslav.

---