If you came to this page directly and do not see a navigation frame on top, please go to the home page.
| | |
| --- | --- |
| DEUTSCHLAND | GERMANY |
| Bundesland: Hessen | Hesse |
| Kreis: Main-Kinzig-Kreis | |
map →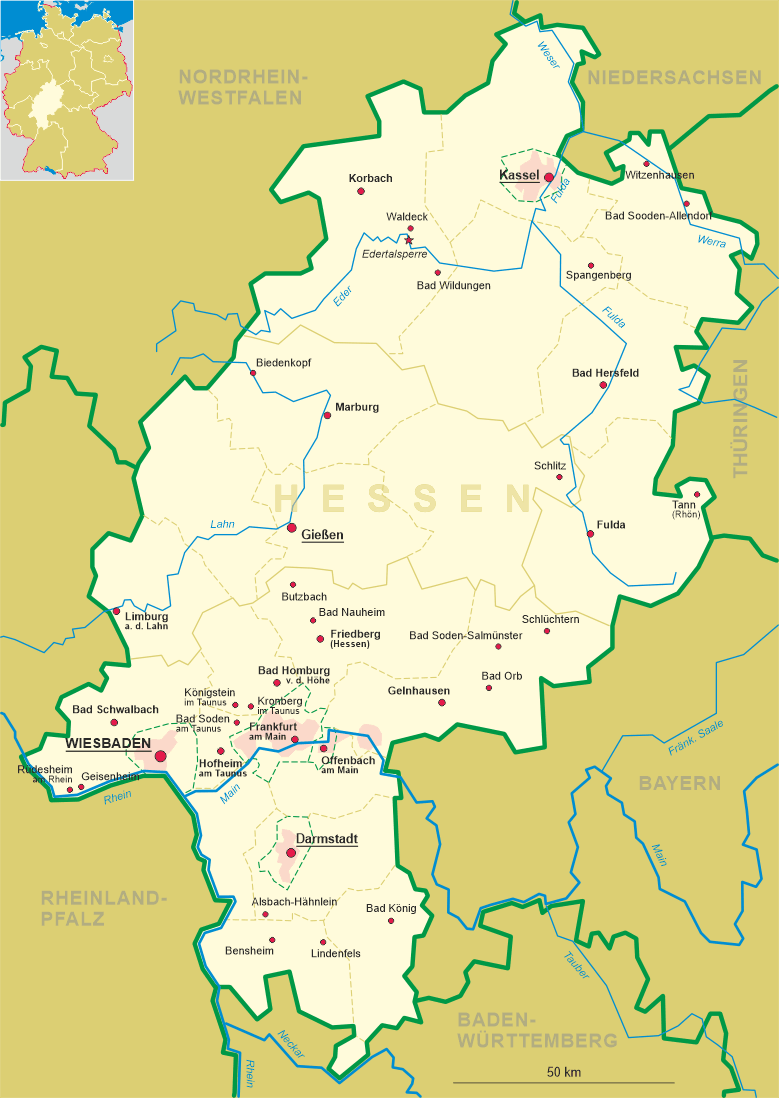 Bad Soden-Salmünster
• ru: Бад-Зоден-Зальмюнстер
Bad Soden-Salmünster is situated at an elevation of 157–450 m in the Kinzig valley in the northern slopes of the Spessart mountains and the southern slopes of the Vogelsberg.
Bad Soden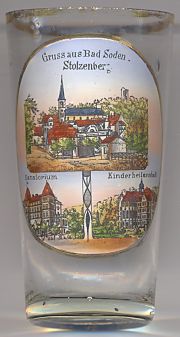 Bad Soden is a city borough of the municipality Bad Soden-Salmünster and is well-known as a spa town due to its saline springs. In 1296, Soden, at that time called Stolzenthal, obtained the privileges of a town. In 1816, the district Salmünster became part of the Electorate Hesse (Hesse-Kassel), which itself became part of Prussia in 1866. The saline springs were re-discovered in 1837. The first spa hotel (Kurhaus) in Soden was built in 1889. In 1928 the town was awarded the predicate 'Bad' (spa) and the official name of the town was changed to Bad Soden bei Salmünster. In 1974 the communities Bad Soden bei Salmünster and Salmünster were merged to become the new community of Bad-Soden-Salmünster.

Stolzenberg castle [top picture: background top right] was first mentioned in 1252. The castle was already founded in the 12th century by the abbots of Fulda as a stronghold to protect the valley and the saline springs. This early castle was destroyed in the early 13th century. In 1252 the castle was rebuilt. A document of this year for the first time also mentions the settlement Soden below the castle. In 1412 the counts of Hanau purchased parts of the castle. During the Knights' War of 1522/1523 the castle was conquered by Landgrave Philipp of Hesse. After that, it slowly fell into dereliction but was rebuilt again shortly before the beginning of the Thirty Years' War (1618–1648). During that war it was finally destroyed by Imperial Croatian troops. In the following centuries the ruins were used as a quarry. Today, only the old castle keep and one larger part of the castle's walls remain.
The Catholic

parish church St. Laurentius [top picture: centre] was built in 1896 in Gothic revival style.
The building in front of the church is labeled Garnfabrik von Paul Anselm (yarn mill of Paul Anselm).
the two bottom pictures depict the

sanatorium [left] and the

children's sanatorium (Kinderheilanstalt) [right].
---