If you came to this page directly and do not see a navigation frame on top, please go to the home page.
| | |
| --- | --- |
| DEUTSCHLAND | GERMANY |
| Bundesland: Freistaat Sachsen | Saxony |
| Landkreis: Erzgebirgskreis | |
map →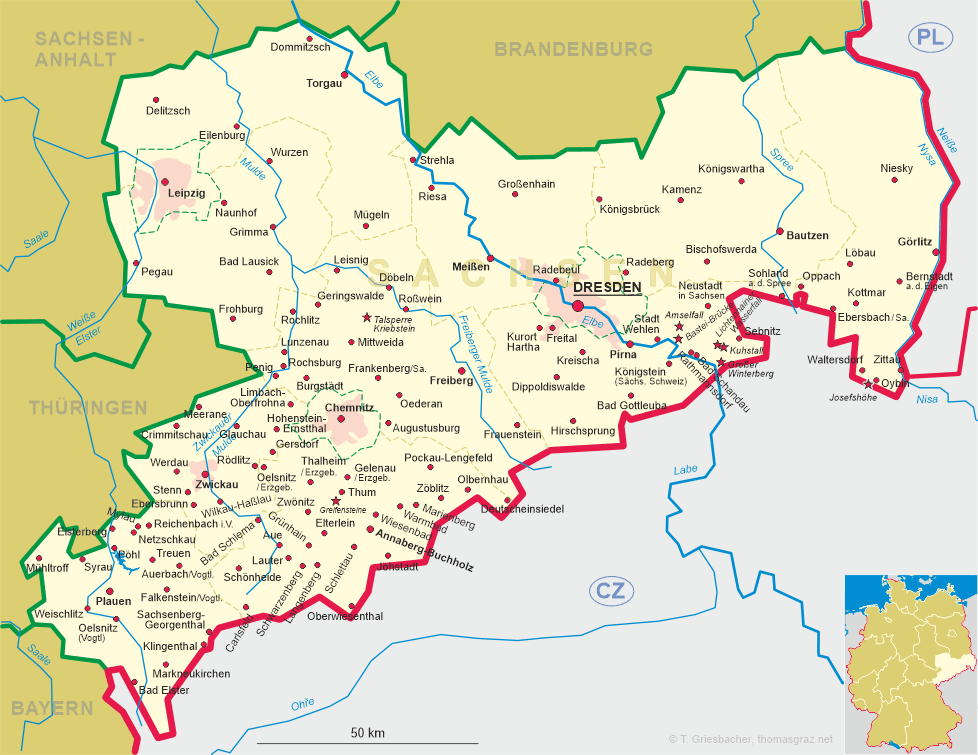 Thermalbad Wiesenbad
Thermalbad Wiesenbad is situated at an elevation of 523 m on the Zschopau river in western Saxony. The municipality has a population of about 3,400 (2015) and consists of the Himmelmühle, Neundorf, Plattenthal, Schönfeld, Wiesa und Thermalbad Wiesenbad.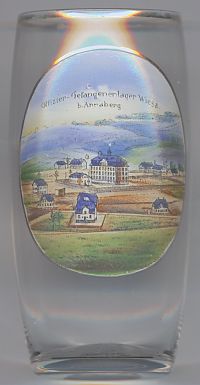 The area seems to have been first settled in the 12th/13th century. The earliest written documents referring to the place date from 1381 (Schönfeld), 1386 (Neundorf as im neuen Dorf) and 1398 (Wiesa as Wiese). The first settlement of what today is the municipality's part of Wiesenbad originated in 1474 when a mill, belonging to the barons of Wiesa was founded there. Mining for iron, cobalt, copper, silver and tin started in the 15th century. Towards the end of the 15th century/beginning of the 16th century, a thermal spring was discovered in Wiesenbad. This spring was tapped in 1501 and in 1505 was dedicated in 1505 as 'St. Job's Spring' by the bishop of Meißen. Mining activities ended in the 18th century and were superceded by the cutivation of flax, which became a major economic factor for the area. The municipality of Thermalbad Wiessenbad (formerly 'Warmbad Wiesenbad' as labeled on glass no. 0000 [left]) was established in 1956. On 1 January 1999, Neundorf, Schönfeld, Wiesenbad and Wiesa were merged into the new municipality of Wiesa. The municipality of Wiesa was renamed Thermalbad Wiesenbad on 1 January 2005.
Glass no. 2319 [right] shows a view of the

officers prisoners' camp at Wiesa which was established during World War I.
---