If you came to this page directly and do not see a navigation frame on top, please go to the home page.
| | |
| --- | --- |
| DEUTSCHLAND | GERMANY |
| Bundesland: Brandenburg | |
| Landkreis: Märkisch-Oderland | |
map →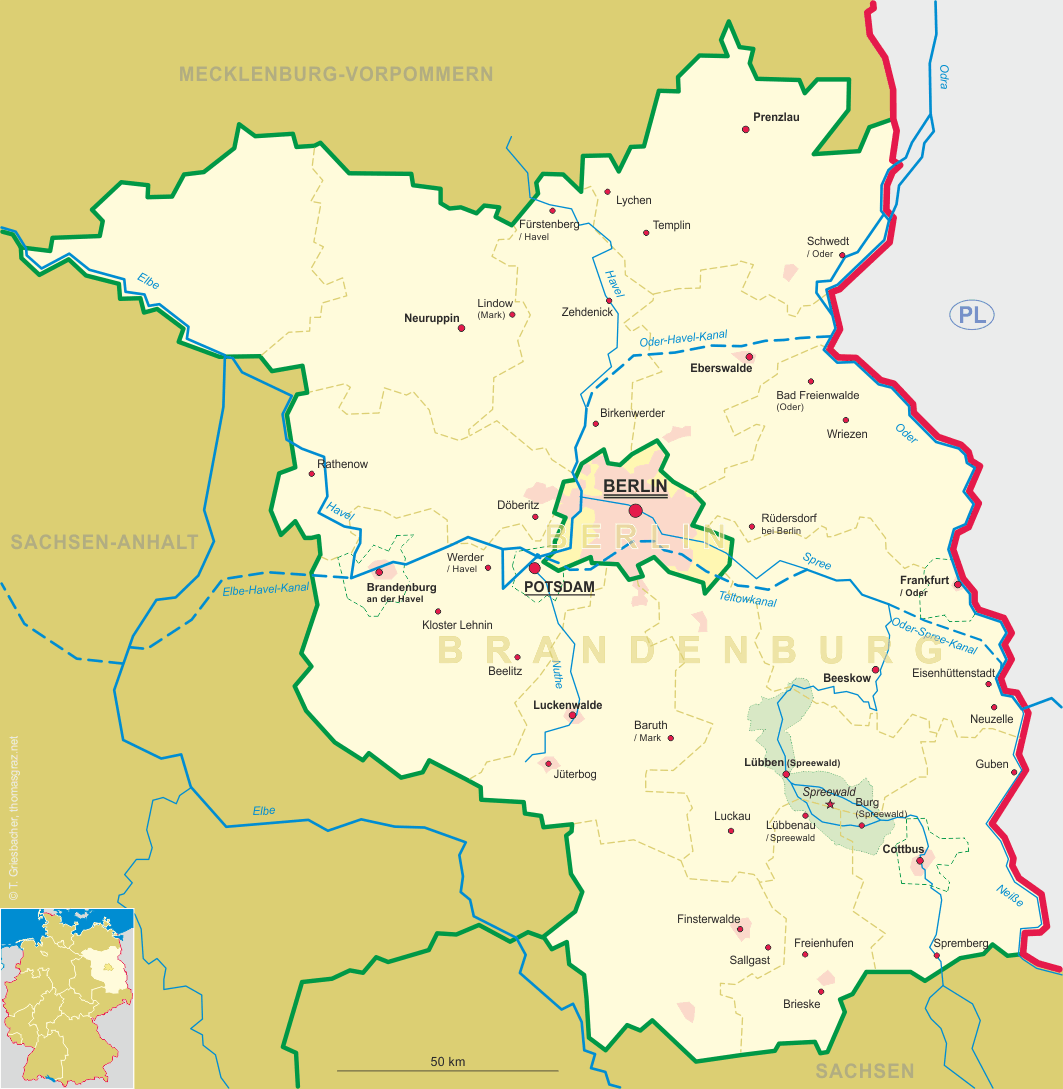 Bad Freienwalde (Oder)
• pl: 
Leśnowola, Tarnowica, Tarnowsko
• be: 
Бад-Фраенвальдэ (Одэр, Одра) • ru: 
Бад-Фрайенвальде (Одра) • mk: 
Бад Фрајенвалде (Одра) • sr: 
Бад Фрајнвалде (Одра)
Bad Freienwalde (Oder) is situated at an elevation of 10–158 m at the river Alte Oder at the northwestern edge of the Oderbruch region and the foot of the Barnim plateau. Bad Freienwalde has a population of about 13,100.
The oldest written mention of Vrienwolde dates from 1316. The swampy region of the Oderbruch was relatively narrow (about 2 km) at this place and thus provided an convenient location for crossing the river up until the 18th century when the Oderbruch was drained. In 1685 the physician Bernhard Albinus described the mineral springs (today named "Kurfürstenquelle") which had been discovered in 1683. From then on Freienwalde became a popular spa place. On 23 October 1925 the predicate 'Bad' (spa) was added to the name of the municipality. On 15 December 2003 the community was officially recognised as a mud bath spa. Between 1925 and 1993 Bad Freienwalde was the capital town of the district of the same name. Until 1990 it was part of the region Frankfurt (Oder) within the German Democratic Republic. Today it is part of the district Märkisch-Oderland in the state of Brandenburg. On 26 October 2003 the neighbouring communities of Altglietzen, Bralitz, Hohenwutzen, Neuenhagen and Schiffmühle were incorporated into the municipality of Bad Freienwalde.
The

parish church Sankt Nikolai [top picture: centre] goes back to a church of the 13th century. Most parts of the church were built in the 14th and 15th centuries. The gallery annex and the tower date from the 16th century. The tall spire was added to the tower in 1867. Among the treasures of the church is a Romanesque baptismal font from the 13th century.
The bottom left picture on glass no. 2330 shows the

Brunnenhotel which was built in 1875. Today it is used as the Kurhaus of Bad Freienwalde.
The bottom right picture shows the

Kurfürstenquelle. The red sandstone catchment basin was created in 1900.

---