If you came to this page directly and do not see a navigation frame on top, please go to the home page.
| | |
| --- | --- |
| UNITED STATES OF AMERICA | |
| MASSACHUSETTS | |
| Essex County | |
map →
Marblehead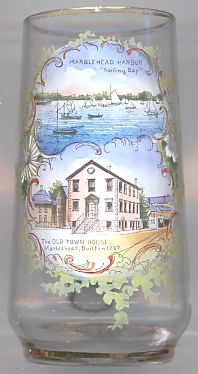 Marblehead is situated on the North Shore of Massachusetts along Massachusetts Bay and Salem Harbor. The town consists of rocky peninsula that extends into the bay, with a neck connected by a long sandbar. This ring of land defines Marblehead's deep, sheltered harbor. Marblehead Neck is home to a bird sanctuary, as well as Castle Rock and Chandler Hovey Park at its northern tip, where Marblehead Light is located. Marblehead's town center is located approximately four miles from the center of Salem, sixteen miles northeast of Boston and twelve miles southwest of Cape Ann.
[Text adapted from http://en.wikipedia.org/wiki/Marblehead,_Massachusetts]
Marblehead was founded in 1629 by fishermen recruited from Southeast England and the Channel Islands. They were soon joined by dissidents from the Pilgrims, Anglicans and Puritans, some university graduates and entrepreneurs. Determined to stay independent, they created a town government that still runs Marblehead today. Marblehead's fame and fortune grew, so that in 1660 a Royal Agent declared in London that Marblehead was the "the greatest town for fishing in New England". Marblehead's "Golden Age of Trade" carried its captains and crews to many parts of the world. During the 19th century, however, Marblehead lost out to larger ports, the War of 1812 and, finally, to the devastating 1846 hurricanes that caught the fleet on the Grand Banks.
The bottom picture on glass no. 2381 [left] shows the

Old Town House, built in 1727. It is often referred to as "Marblehead's Cradle of Liberty" for the many pre-revolutionary war meetings held there. It is one of the oldest town halls in America that has been in continuous use.
[text adapted from http://www.marblehead.org/index.asp?NID=594]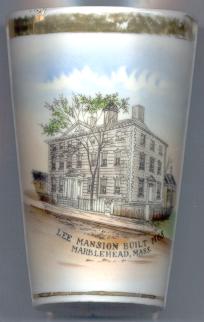 Lee mansion [near left] was built in 1768 on one of Marblehead's principal streets by the wealthy shipowner and distinguished patriot Jeremiah Lee. A personal friend of George Washington, Lee helped to finance the American revolt against England until his untimely death in 1776. The house is is considered to be one of the finest examples of Georgian architecture in America. It is listed on the National Register of Historic monuments and is preserved by the Marblehead Historical Society.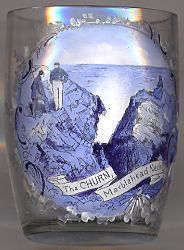 The Churn [near left] on Marblehead Neck is a fissure in the rocks at tide level from which under an east or northeast wind great billows of spray rise to a height sometimes of 50 feet (15 metres).
[https://books.google.at/books?id=HCnn3t_nH_MC&pg=PA279&lpg=PA279&dq="The+Churn"+"Marblehead+Neck"&source=bl&ots=LD4wyfljBO&sig=LUEBPcoPx1b1erlAc83MyMFKypc&hl=en&ei=C0ijS8DnNIqssAaM3vHwCA&sa=X&oi=book_result&ct=result#v=onepage&q="The%20Churn"%20"Marblehead%20Neck"&f=false]

---