If you came to this page directly and do not see a navigation frame on top, please go to the home page.
| | |
| --- | --- |
| FRANCE | FRANCE |
| région: Normandie | Normandy |
| département: 61, Orne | |
map →
La Ferté-Macé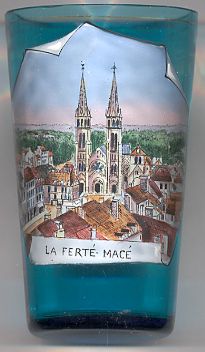 La Ferté-Macé is situated at an elevation of 224 m at the river Maure in the département Orne in the région Normandie of northern France. La Ferté-Macé is the chef-lieu of the canton of the same name within the arrondissement Alençon. the municipality has a population of about 6,700 (1999).
The village originated in the middle ages. The name is derived from feritas Mathéi (fortress of Mathieu), referring to one of the companions of William the Conquerer at the Battle of Hastings of 1066. The area had the status of a royal barony since the recapture of Normandy by king Philippe II Auguste in the 13th century. During the 19th century La Ferté-Macé became a centre of textile industry. In 1853 the first mechanical weaving loom of France was installed here. The railway line from Briouze to La Ferté-Macé and on to Bagnoles-de-l'Orne was opened in 1869.
The picture on glass no. 2424 [left] shows the

church of Our Lady (église Notre-Dame), which was constructed between 1851 and 1860 in Romanesque-Byzantine revival style.

---