If you came to this page directly and do not see a navigation frame on top, please go to the home page.
| | |
| --- | --- |
| UNITED STATES OF AMERICA | |
| MISSOURI | |
| Boone Counties | |
map →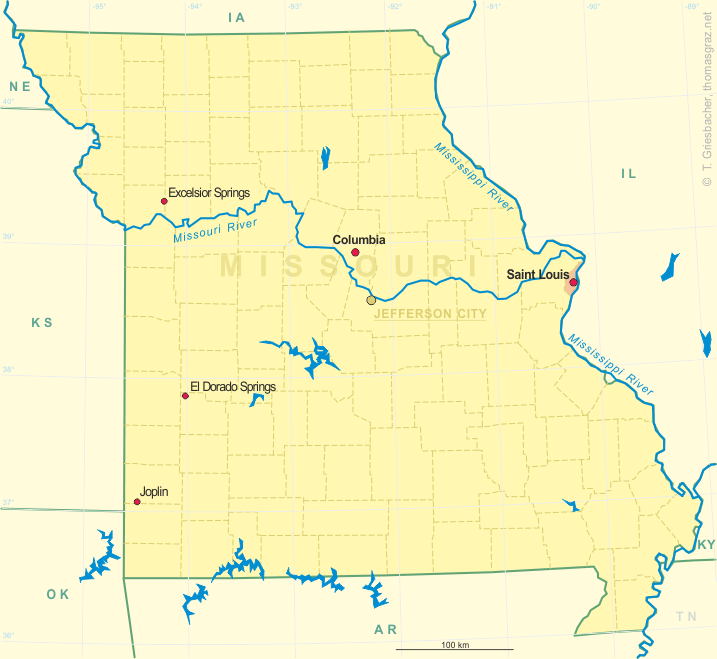 Columbia
• lt, lv: Kolumbija
• ru: Колумбия
Columbia is the fifth-largest city in Missouri, and the largest city in Mid-Missouri. With an estimated population of 102,324 in 2009, it is the principal municipality of the Columbia Metropolitan Area, a region of 164,283 residents. The city serves as the county seat of Boone County and as the location of the University of Missouri. The college town is politically liberal and is known by the nicknames The Athens of Missouri, College Town USA, and CoMO. Over half of Columbians possess a bachelor's degree and over a quarter hold graduate degrees, making it the thirteenth most highly educated municipality in the United States. Located among small tributary valleys of the Missouri River, Columbia is roughly equidistant from St. Louis and Kansas City. Today, Columbia has a highly diversified economy, and is often ranked high for its business atmosphere. Never a strong center of industry and manufacturing, the city's economic base relies on the education, medical, technology and insurance industries.
The Columbia area was once part of the Mississippian culture and home to the Mound Builders. When European explorers arrived, the area was populated by the Osage and Missouri Indians. In 1678, La Salle claimed all of Missouri for France. The Lewis and Clark Expedition passed by the area on the Missouri River in 1803. In 1806, Daniel Boone and his sons established a salt lick 40 miles (64 km) northwest of Columbia. In 1818, a group of settlers, incorporated under the Smithton Land Company, purchased over 2,000 acres (8 km²) and established the village of Smithton less than a mile from current day downtown Columbia. In 1821, the settlers moved, because of lack of water, across the Flat Branch to the plateau between the Flat Branch and Hinkson creeks in what is now the downtown district. They re-named the settlement Columbia — a popular historical name for the United States. The roots of Columbia's three economic foundations — education, medicine, and insurance — can be traced back to incorporation in 1821. Original plans for the town set aside land for a state university. Columbia College (distinct from today's), later to become The University of Missouri, was founded in 1839. When the state legislature decided to establish a state university, Columbia raised three times as much money as any other competing city and James S. Rollins donated the land that is today the Francis Quadrangle. The city benefited from being a stagecoach stop of the Santa Fe and Oregon trails, and later from the Missouri–Kansas–Texas Railroad. Columbia's infrastructure was wholly untouched by the Civil War. Missouri, as a slave state, had Southern sympathies, but remained in the union. The majority of the city was pro-union, however, the surrounding agricultural areas of Boone County and the rest of central Missouri were decidedly pro-slavery. Because of this, the University of Missouri became a base from which union troops operated. No battles were fought within the city because the presence of union troop dissuaded the confederate guerrillas from attacking, though several major battles occurred nearby at Boonville and Centralia. In 1963, Columbia become home to the headquarters of both the University of Missouri System, which today serves over 71,000 students, and the Columbia College system, which today serves about 25,000 students. The latter 20th century saw tremendous growth, and by the end of the century the population was over 80,000 in the city proper.
[Text adapted from http://en.wikipedia.org/wiki/Columbia,_Missouri]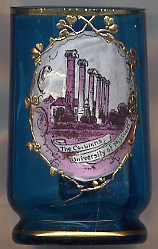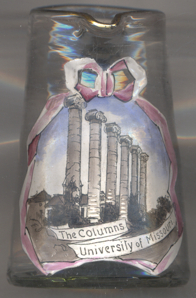 The Columns are the popular landmark of the University of Missouri at Columbia. The six Ionic columns are all that remained from the original Academic Hall, built in 1840–1843 from plans drawn by Stephen Hills, designer of the Missouri State Capitol at Jefferson City and the original Pennsylvania State Capitol at Harrisburg, but destroyed by a desastrous fire on January 9, 1892. After the fire, there was a campaign to move the University to Sedalia; however, Columbia was able to rally against the move. The columns, which still stand today, became a symbol of the campus and form the center of Francis Quadrangle, the oldest part of campus. In the next few months after the fire, many thought of the Columns as an eyesore that blocked the view of the new buildings being constructed on the Quadrangle. Some even feared that they were structurally unsound and a safety hazard. In August 1893, the Board of Curators issued a resolution that called for the Columns to be demolished "as soon as convenient". The protest from Columbia citizens and the reassurance that the Columns did not pose a safety hazard led to the decision in December 1893 that the Columns would remain.
[Text adapted from http://en.wikipedia.org/wiki/Academic_Hall]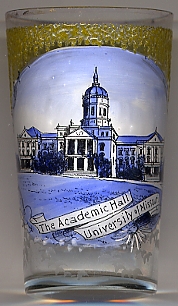 The

New Academic Hall, just south of the columns, was completed in 1895 at a cost of $250,000. In 1922, the hall was renamed Jesse Hall in honor of retiring University president, Richard Henry Jesse. The building is one of the major symbols of the University. It is located at the south end of the Francis Quadrangle. Jesse Auditorium, a popular entertainment venue for touring acts, is located at the east end of the hall. The building is one of the most distinctive on the campus; the dome stands a full 9 stories above the ground, and is actually taller than the building it stands on. It was designed by Morris Frederick Bell and fashioned after Richard M. Upjohn's Connecticut State House of 1872–1878 in Hartford, CT.
[Text adapted from hhttp://en.wikipedia.org/wiki/Jesse_Hall]

---