If you came to this page directly and do not see a navigation frame on top, please go to the home page.
| | |
| --- | --- |
| FRANCE | FRANCE |
| région: Normandie | Normandy |
| département: 14, Calvados | |
map →
Deauville
• lv: Dovila
• lt: Dovilis
• el: Ντωβίλ
• sr: Довил
• ru: Довиль
• uk: Довіль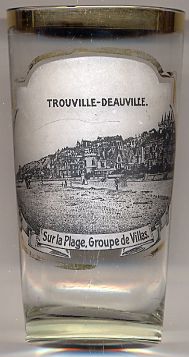 Deauville is situated at the Manche (English Channel) coast in the département Calvados, on the left bank of the river Touques. The municipality has a population of about 4,000 (2007). With its racecourse, harbour, international film festival, marinas, conference centre, villas, Grand Casino and sumptuous hotels, Deauville is regarded as the "queen of the Norman beaches" and one of the most prestigious seaside resorts in all of France. Closest seaside when coming from Paris, the city and the nearby region of the Côte Fleurie ('Flowery Coast') has long been home to French high society's seaside houses and is often referred to as the Parisian riviera. Since the 19th century, the town of Deauville has been a fashionable holiday resort for the international upper class. Also depicted on glass no. 2679 is the neighbouring spa town of Trouville-sur-Mer.
The history of Deauville can be traced back to 1060, when seigneur Hubert du Mont-Canisy dominated the magnificent land which was previously known as Auevilla. In 1066, Hubert du Mont-Canisy left to follow William the Conqueror to England. Until 1860, when the Duc Charles Auguste Louis Joseph de Morny, half brother of Emperor Napoléon III, transformed Deauville into a more travelled resort, Deauville slowly became famous as horse territory and for cultivating sainfoin. Investments included a railway from Paris to Deauville, the Deauville hippodrome for horse races, and a small casino. Within three years over forty villas were constructed in the surrounding area and 200 rooms as well as other accommodations were finalized in the Grand Hotel. In 1863 "La Terrasse" was created. This was essentially a complex for hydrotherapeutic baths and other cures as well as a 1,800 meter promenade along the seaside. In 1931 only seven kilometers away from the center of town the first airport, "l'aéroport de Deauville-Saint-Gatien" was inaugurated. This was a pivotal event in Deauville's history, specifically in terms of tourism, as now Deauville was only a 2-hour trip from London. The combination of the national financial crisis and World War II completely removed the paradisiacal aura of Deauville that would not resurface until after the war and the 1950s. During the war, the German Army occupied Deauville. Villas, hotels, and the casino were all occupied or used to some extent by the German Forces. Following the war, and perhaps exemplified in the 1960s and beyond, Deauville has has become a center for high society and celebrities in almost every field. With scenes of award winning movies, such as Claude Lelouch's "un Homme et une Femme", and endless celebrity traffic, Deauville has become an emblematic resort town in Europe.
[Text adapted from http://en.wikipedia.org/wiki/Deauville]

---