If you came to this page directly and do not see a navigation frame on top, please go to the home page.
| | |
| --- | --- |
| DEUTSCHLAND | GERMANY |
| Bundesland: Freistaat Sachsen | Saxony |
| Landkreis: Erzgebirgskreis | |
map →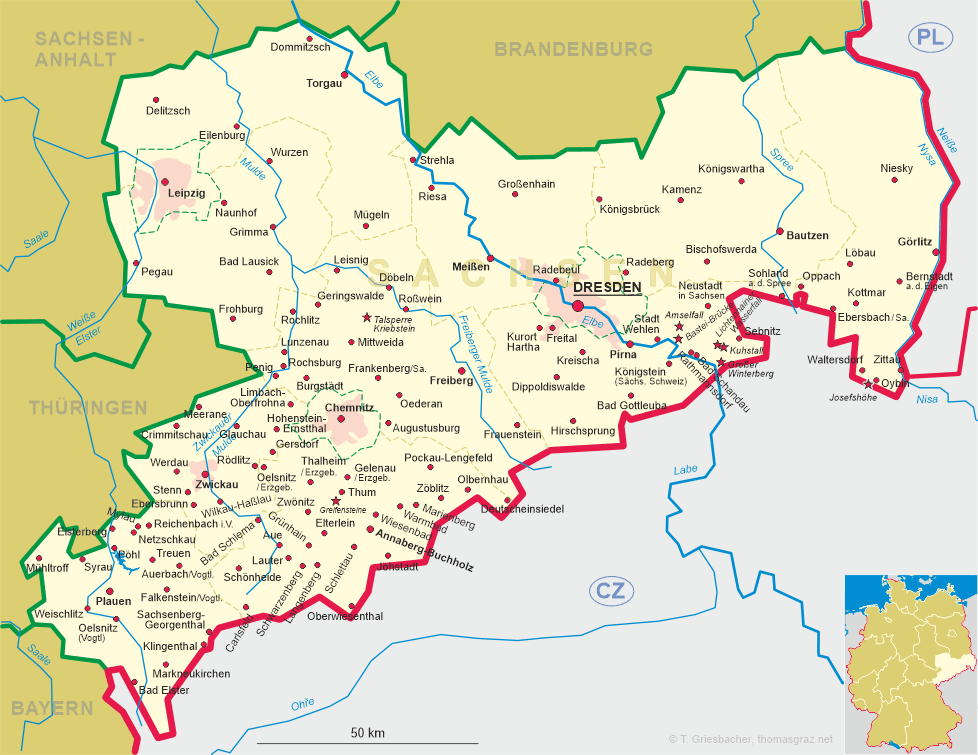 Greifensteine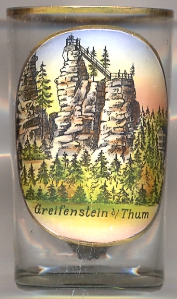 The Greifensteine (plural), until around 1900 der Greifenstein (singular), is a rock formation in the Ore Mountains of Saxony, within the municipality of Ehrenfriedersdorf, about 3 km west of the town Ehrenfriedersdorf and about 3 km southwest of Thum. The highest of the seven granite rocks (15–30 nbsp;m height) reaches 731 m above sea level. Originally, thirteen rocks existed, but six of them had been cleared away until 1923 as they had been used as a quarry before.
Geologically, the Greifensteine is the top of a pluton. In the Late Paleozoic, magma intruded along structural zones, but cooled and solidified before reaching the earth surface. When the Erzgebirge mountains raised, the resulting granite formation raised with it. The surrounding softer material eroded and the harder granite remained, creating the tors (rock outcrops) of the rock formation. The deposition of ores associated with the intrusion gave the area its name (Erzgebirge, literally 'Ore Mountains').
Today, the Greifensteine is a nature reserve and a popular tourist attraction. The areal has a restaurant, a small museum and an outdoor theater that uses the rock formation as a dramatic backdrop. Stairs lead up to the tallest rock, which offers a nice view of the surrounding Erzgebirge. The rock formations offer several rock climbing paths.
Karl Stülpner (1762–1842), a local renegade and folk hero (the 'Robin Hood of the Erzgebirge') had a hiding place in one of the numerous caverns of the Greifensteine area. The 'Stülpner-Höhle' ('Stülpner's cavern') can still be visited today.
[https://en.wikipedia.org/wiki/Greifensteine, https://de.wikipedia.org/wiki/Greifensteine]

---