Ліберець
The documented history of Liberec begins with mentionings of 'Reychinberg' in church documents of the 14th century. It was the property of the Barons of Biberstein, succeded by the Hohenzollern in 1552, and the Barons Redern in 1558. The town flourished at the end of the 16th century. After the Battle at the White Mountain (Bílá Hora, today part of Prague) in 1620, the Redern were banned. The town and estates were bought by Albrecht of Wallenstein and became part of his Duchy of Friedland. Wallenstein also promoted the cloth industry which remained important for the town for centuries to come. The counter-reformation reintroduced the Catholic denomination until 1658. However, many clothiers preferred to emigrate rather than denying their Protestant faith. After the assassination of Wallenstein at Cheb (Eger) in 1634, the town passed to the Counts Gallas, and later to Clam-Gallas in 1757. At the same time, serfdom was abolished. The 18th and 19th century brought further upswings for the town and its textile industry. In 1889, the town became a city with own statutes.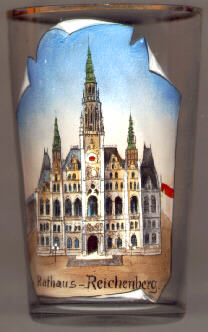 The

Town hall (Radnice) [left, no.291] is the centre of the municipal life of Liberec. It was built in 1888–1893 by the architect Franz von Neumann. The design is inspired by the flemish Renaissance as a symbol for the power of the city. The tower of the town hall has a height of 65 m which offers splendid views over the city.
Further building designed by Franz von Neumann depicted on glasses of this collection are the parish churches St. Anton and Donaufeld in Vienna and the Villa Erzherzog Eugen in Baden.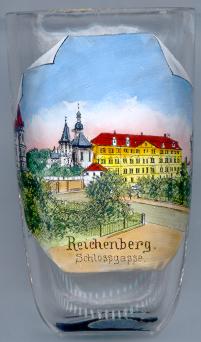 The

castle [right, no.762: centre right] goes back to a castle built by Melchior von Redern in 1582–1587. After a fire in 1616 which destroyed the old castle, a new palace was built in Baroque style in 1773–1776. Later additions in Classicist style date from 1852–1856.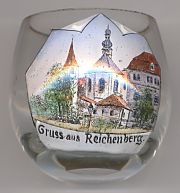 The

palace chapel [near left, no.2277, and right, no.762: centre left] in High Renaissance style was built by Katharina von Redern 1604–1606. As the Redern family was a supporter of the reformation in Bohemia, the church was protestant at first. Following the defeat of the protestant Bohemian forces in the Battle at the White Mountain in 1620, the Rederns lost all their property and the chapel became a catholic church. Since 1919 the castle is owned by the state and served as the forest administration for North Bohemia.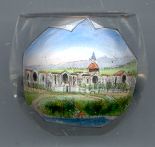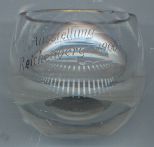 Glass no.1809 [left] shows one of the buildings of the

German-Bohemian Exhibition (Deutsch-Böhmische Ausstellung) of 1906. The labelling on the back side of the glass reads (in German): "Ausstellung Reichenberg 1906" [see picture on the right].

A popular destination for excursions in the vicinity of Liberec is the Ještěd mountain.

---