If you came to this page directly and do not see a navigation frame on top, please go to the home page.
| | |
| --- | --- |
| DEUTSCHLAND | GERMANY |
| Bundesland: Freistaat Sachsen | Saxony |
| Landkreis: Zwickau | |
map →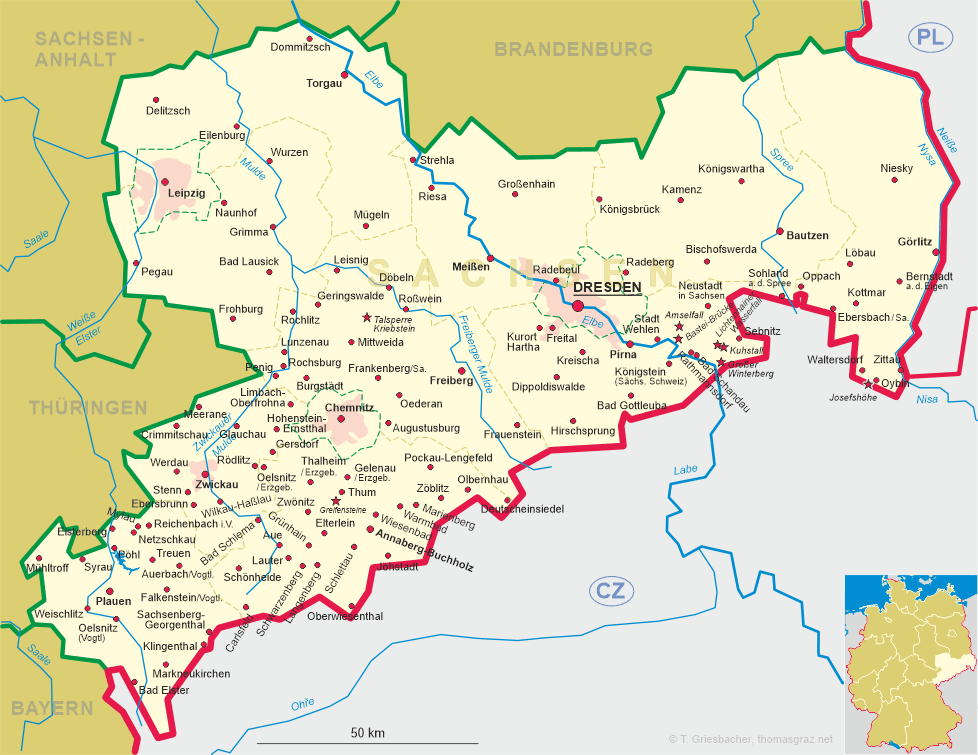 Gersdorf
• mk, ru, sr: Герсдорф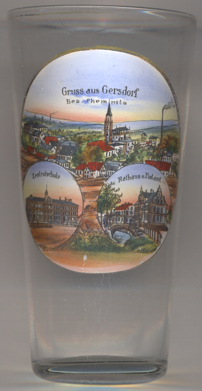 Gersdorf is situated at an altitude of 315 m on in the east of the district Zwickau just north of the beginning of the Erzgebirge (Ore Mountains) region. The municipality has a population of about 4,100 (2015).
Although Gersdorf had celebrated its '800 years anniversary' in 1969, no document exists that conirms the 'founding' date of 1169. The oldest written document mentioning Gersdorf dates from 1320. Around the turn of the 14th to the 15th century, Gersdorf became part of the domains of the lords of Schönburg. In the 19th century, mining and textile industry became the basis for an economic upswing. While the mines were closed in 1944, textile production continued until the period of the German Democratic Republic. Between 1913 and 1960, an interurban tram line connected Hohenstein-Ernstthal via Gersdorf to Oelsnitz / Erzgeb..
The
Marienkirche (church of Our Lady) [top picture: centre] was built in 1862–1865 by the architect Carl August Schramm.
The bottom left picture on glass no. 3132 shows a view of the

Zentralschule (central school), built in 1899–1900 and replacing an earlier school building of 1879/80.
The bottom right picture shows a view of the

town hall, built in 1894, and the post office.
[https://de.wikipedia.org/wiki/Gersdorf; http://www.grundschule-gersdorf.de/?page_id=43; http://mapio.net/pic/p-68002178/]

---