If you came to this page directly and do not see a navigation frame on top, please go to the home page.
| | |
| --- | --- |
| ČESKÁ REPUBLIKA | CZECH REPUBLIC |
| Moravskoslezský kraj | North Moravia and Silesia (Ostrava) region |
| Okres: Bruntál | |
map →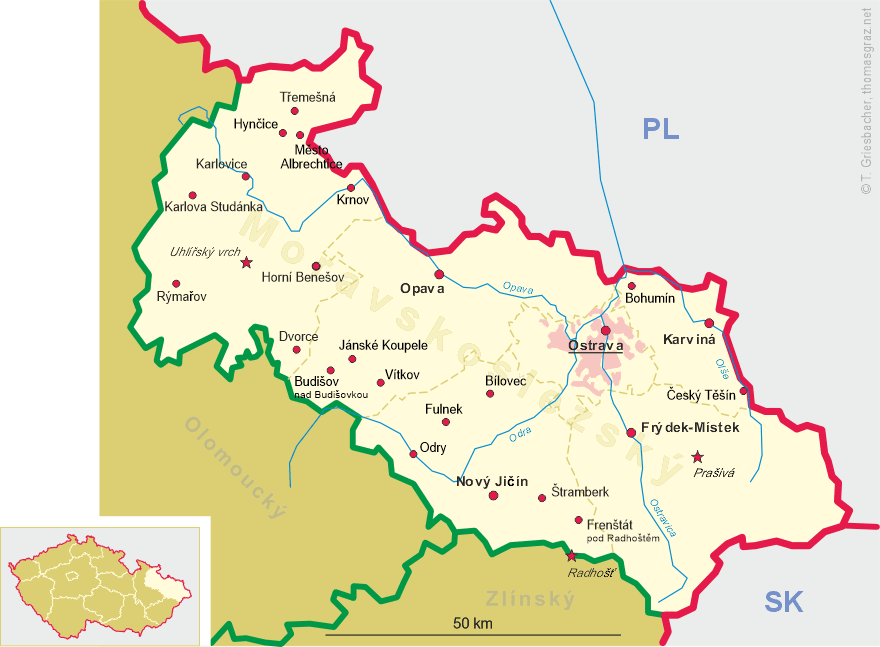 Město Albrechtice
• lv: Mesto Albrehtice
• ru: Место-Альбрехтице
• sr: Мјесто Албрехтице

Město Albrechtice (German: Olbersdorf) is situated at an elevation of 350 m on both banks of the river Opavice (German: Goldoppa) in the Zlatohorská vrchovina (Opawskie Mountains or Zlaté Hory Highlands), about 37&nbsl;km northwest of Opava and about 206nbsp;km northeast of the district town, Bruntál. The municipality of Město Albrechtice has a population of about 3,500 (2017).
Albirchtisdorf was first mentioned in 1377 on the occasion of the partitioning of the duchy of Troppau (Opava). In 1492, Olbersdorf was granted the status of a town. In 1632 the town was obtained by the Jesuits of Neisse (today Nysa). When most of Silesia was annexed by Prussia in 1742, Olbersdorf remained in the small, Austrian part of Silesia (crown land Austrian Silesia). In 1745 the Jesuits of Neisse turned over the domains to the Jesuits of Troppau. In 1773, the domains became part of the domains of the Habsburg court. The domains were sold in 1824 to private owners. Following the Munich Agreement of 1938, Olbersdorf became part of the district Jägerndorf (Krnov) in the Reichsgau Sudentenland of the German Reich (see map). After World War II, Olbersdorf was returned to Czechoslovakia. The the predominantly German-speaking population (100% in 1910) was expropriated and expelled.
The late Baroque

church of the Visitation of the Virgin Mary [bottom picture, right] was built at the end of the 18th century in place of an older monastery church of 1610 which had been destroyed by a fire in 1746.
The Baroque

column of Saint Anne [bottom picture, left] was erected in 1719.
The building depicted in the top picture on glass no. 3445 is not labeled but, using contemporary picture postcards, could be identified as

municipal steam bath.

[https://de.wikipedia.org/wiki/Město_Albrechtice, https://en.wikipedia.org/wiki/Město_Albrechtice; http://www.infokrnov.cz/de/interessante-orte-in-der-mikroregion-krnovsko/1469-kostel-navstiveni-panny-marie-mesto-albrechtice; http://www.infokrnov.cz/cs/zajimavosti-mikroregionu-krnovsko/cirkevni-pamatky/1470-sloup-sv-anny-mesto-albrechtice]

---