If you came to this page directly and do not see a navigation frame on top, please go to the home page.
| | |
| --- | --- |
| SCHWEIZ / SUISSE / SVIZZERA / SVIZRA | SWITZERLAND |
| Tessin / Tessin / Ticino / Tessin | |
map →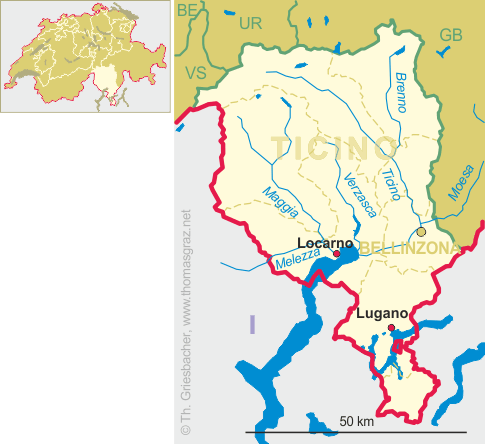 Locarno
• lt: Lokarnas • lv: Lokarno
• el: Λοκάρνο
• be: Лакарна • bg, mk, ru, sr, uk: Локарно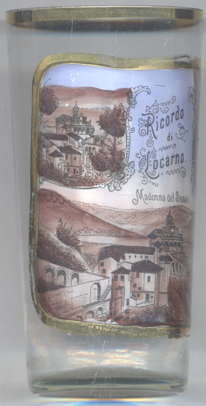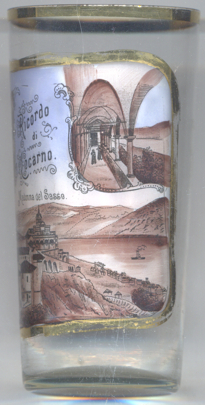 Locarno is situated at an elevation of 200 m on the northern shore of Lago Maggiore, east of the delta of the river Maggia. Locarno is the capital of the district Locarno within the Swiss canton of Ticino. With a population of about 16,100 (2016) Locarno is the third-lasrgest city in Ticino following Lugano and Bellinzona.
The earliesst documents mentioning ad Lucarne date from 751–760 (copy of the 17th century), locus Leocarni is mentioned in a document of 807. In 1164 Locarno obtained the privileges of a market town, in 1186 it became immediate to the Empire. In 1342 it was conquered by the Visconti. In 1503 the was conquered by the Swiss Confederates, the castle, however, was only obtained from France in 1513. After the collapse of the Ancien Régime Locarno became part of the Helvetic Republic in 1798 (Canton Lugano). Since 1803 it is part of the Canton Ticino which in that year was founded by merging the former cantons of Lugano and Bellinzona. Locarno was capital of Ticino in 1821–1827, 1839–1845, 1857–1863 und 1875–1881. In 1925, the Locarno Treaties between Germany, Belgium, France, Great Britain, Italy, Poland und Czechoslovakia settled the international legal status of Germany after World War I. The famous film festival of Locarno was founded in 1946.
The

Madonna del Sasso [left, no. 3460] is a sanctuary and pilgrimage church in Orselina, above the city of Locarno. It is the principal sight and goal of pilgrimage in the city. The founding of the sanctuary goes back to a vision of the Virgin Mary experienced by a monk in the night of 14/15 August 1480. The sanctuary is linked to Locarno city centre by the Locarno–Madonna del Sasso funicular.

[http://de.wikipedia.org/wiki/Locarno; https://en.wikipedia.org/wiki/Madonna_del_Sasso,_Switzerland]

---