If you came to this page directly and do not see a navigation frame on top, please go to the home page.
| | |
| --- | --- |
| РОССИЯ ROSSIJA | RUSSIA |
| Калининградская область / Kaliningradskaja oblast' | Kaliningrad province |
| Гусевский район / Gusevskij rajon | Gusev district |
map →
Гусев
Gusev
• nl: Goesev
• fr: Goussev
• lt: Gumbinė
• de: Gumbinnnen, Gussew
• lv: Guseva
• hsb: Gusew
• pl: Gusiew, Gąbin
• ee: Gussev
• el: Γκούσεβ
• bg, mk, ru, sr: Гусев
• be: Гусеў
• uk: Гусєв
Гусев (Gusev), previously known by its German name Gumbinnen (Lithuanian: Gumbinė; Polish: Gąbin), is situated at an elevation of 45 m at the confluence of the Pissa and Krasnaya Rivers, near the border with Poland and Lithuania, about 105 km east of Калининград (Kaliningrad) and 25 km east of Черняховск (Černjahovsk). The municipality has a population of about 28,300 (2010).
Gumbinnen (from Lithuanian: Gumbinė: pumpkin) in the Duchy of Prussia was first mentioned in 1580. A Protestant parish was established in Gumbinnen about 1545 and the first church was erected in 1582. Gumbinnen became part of Brandenburg-Prussia in 1618. Between 1709 and 1711 the area was devastated by the Great Northern War plague outbreak and had to be redeveloped under the rule of the "Soldier King" Friedrich William I, King in Prussia, who granted Gumbinnen town privileges in 1724 and from 1732 resettled the area with Protestant refugees from the archbishopric of Salzburg. From 1815, Gumbinnen was the capital of Regierungsbezirk Gumbinnen, an administrative district of the Province of East Prussia, and became part of the German Empire upon the unification of Germany in 1871. In 1860 the Prussian State railway line from Königsberg (Kaliningrad) to Stallupönen (now Nesterov) was built and the route passed through Gumbinnen, causing the town to grow in economic importance in the region. During World War I the town was the site of the Battle of Gumbinnen, a major battle on the Eastern Front. At the beginning of the Nazi era, Gumbinnen was designated a military sub-region of the Königsberg military area. During the Evacuation of East Prussia in 1945, the German residents fled or were forcibly expelled. Following the end of the war, under border changes promulgated at the Potsdam Conference in 1945, the northern part of East Prussia became a part of the Soviet Union, including Gumbinnen. In 1946 the town was renamed Gusev, in honour of Red Army captain Sergej Ivanovič Gusev, who was killed in action near Gumbinnen in January 1945, and was posthumously given the award of Hero of the Soviet Union.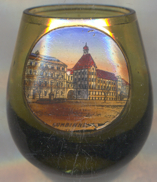 The

'Old Goverment building' [left, no. 3536: left], the seat of the district administration, was built in 1832–1836 by the famous architect karl Friedrich Schinkel in Classicist style. The building was destroyed in 1945. The

'New Goverment building' [left, no. 3536: right] was built in 1908–1910 by the architect Richard Saran. The building was restored after the war.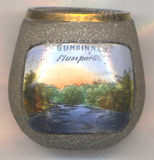 The picture on glass no. 3504 [near left] is labeled in German

Flusspartie ('section on the river').

[https://en.wikipedia.org/wiki/Gusev,_Kaliningrad_Oblast, https://de.wikipedia.org/wiki/Gussew; https://ome-lexikon.uni-oldenburg.de/orte/gumbinnen-gusev/]

---