If you came to this page directly and do not see a navigation frame on top, please go to the home page.
| | |
| --- | --- |
| DEUTSCHLAND | GERMANY |
| Bundesland: Freistaat Bayern | Bavaria |
| Regierungsbezirk: Oberbayern | |
| Landkreis: Miesbach | |
map →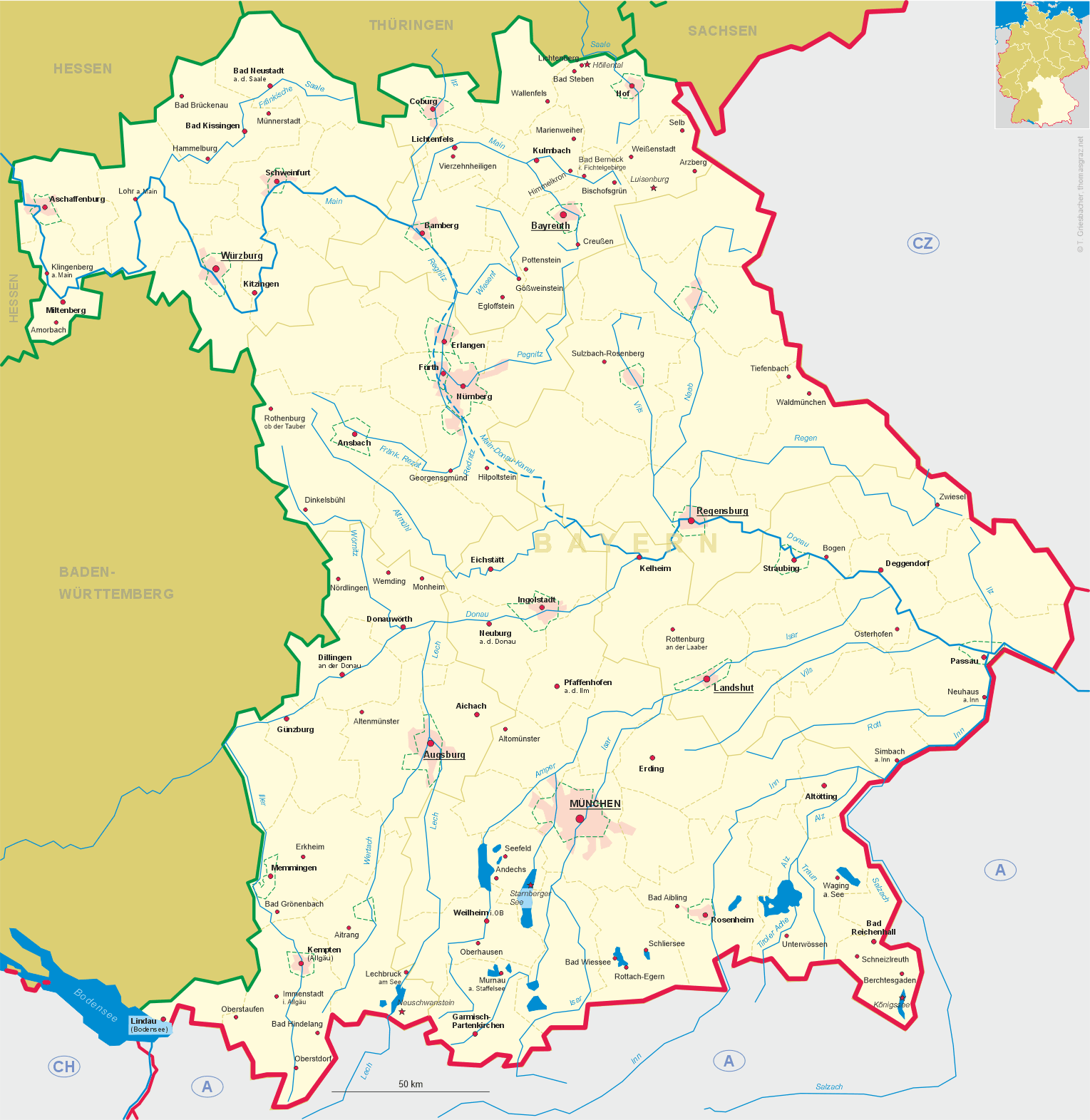 Rottach-Egern
• prev.: Rottach
• sr: Ротах-Егерн
• uk: Роттах-Егерн
• ru: Роттах-Эгерн

Rottach-Egern (until 1951 Rottach) is situated at an elevation of 736 m on the southern shore of Lake Tegernsee in the district Miesbach of southern Bavaria. The municipality has a population of about 5,600 (2017).
Rottach was first mentioned in a document from the Tegernsee monastery of 1002/1003 AD. The fishing village belonged to the monastery until the secularisatin of 1803. The independent municipality of Rottach was founded in 1818. In the early 19th century, Rottach soon became a popular summer resort which was visited even by the king of Bavaria and the emperors of Austria and Russia. The name of the municipality was officially changed to Rottach-Egern on 19 March 1951.
The Catholic

parish church Sankt Laurentius in Egern [left, background] goes back to a church founded here in 1111 and hwich was rebuilt in 1466. The church was remodeled in Baroque style in 1671/72 and was lengthened on its western side in 1707/08. The upper part of the tower was built in 1781.
The cemetery next to the church is one of the most visited in Germany as it includes the graves of the poets, Ludwig Thoma and Ludwig Ganghofer, opera singer Leo Slezak, writers Heinrich and Alexander Spoerl and the painter Olaf Gulbransson.

[https://de.wikipedia.org/wiki/Rottach-Egern, https://www.gemeinde.rottach-egern.de/de/rottach-egern/geschichte/geschichte/]

---