If you came to this page directly and do not see a navigation frame on top, please go to the home page.
| | |
| --- | --- |
| SCHWEIZ / SUISSE / SVIZZERA / SVIZRA | SWITZERLAND |
| Waadt / Vaud / Vaud / Vad | |
map →
Leysin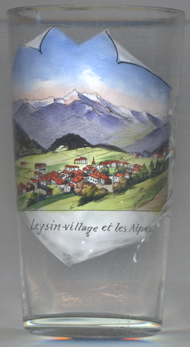 Leysin is situated at an elevation of 1,253 m on an terrace of the Tour d'Aï, high above the valley of the river grande Eau, about 4 km northeast of Aigle. The municipality has a population of about 4,000 (2017).
Leissins was first mentioned in a document of 1232. When the territory of Aigle was conquered by Berne in 1476 Leysin became part of the Aigle gouvernement. The Reformation was introduced in 1528. Leysin became an independent municipality only in 1702. During the Helvetic Republic (1798–1803) Leysin was part of the canton Léman, which in 1803 became the modern canton Vaud (Waadt). Since 1798 it is part of the district Aigle.
In his famous book Essay upon the principle of population (1789), Thomas Malthus discussed the relative longevity of the inhabitants of Leysin which, he presumed, was due to the healthy climate and the remoteness of the area (and thus protection from infectious diseases). As a consequence, Leysin in the 19th century soon became an internationally known spa place.

[https://de.wikipedia.org/wiki/Leysin]

---