If you came to this page directly and do not see a navigation frame on top, please go to the home page.
| | |
| --- | --- |
| УКРАЇНА UKRAJINA | UKRAINE |
| Львівська область L'vivs'ka oblast' | L'viv province |
| Львівська міська рада L'vivs'ka mis'ka rada | L'viv city municipality |
map →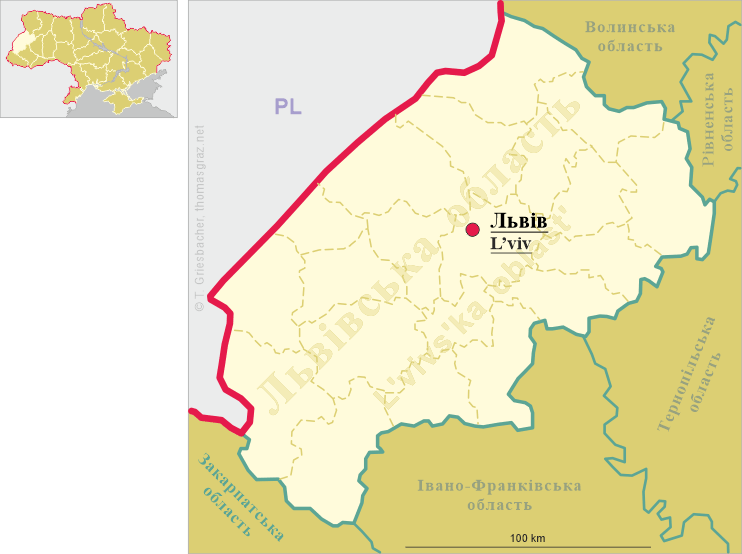 Львів
L'viv
• hr: Lavov
• de: Lemberg
• it: Leopoli
• ro: Liov
• en, fr, ...: Lviv
• lv: Ļviva
• cs: Lvov
• lt: Lvovas
• pl: Lwów
• el: Λβιβ
• mk, sr: Лавов
• bg: Лвов
• uk: Львів
• ru: Львов
• be: Львоў
• he: לבוב
• yi: לעמבערג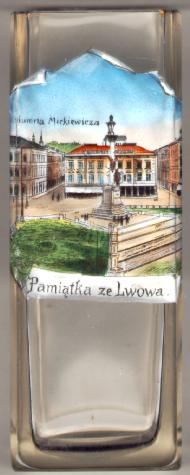 The history of L'viv begins in the 13th century with the foundation of the town by Prince Danylo Halitski of Galicia (first mentioned in 1256) who named the town after his son, Lev. In the 14th century, Galicia and L'viv (Lwów) became part of Poland under King Kazimierz III (Casimir the Great). From 1648, Cossack and Russian armies besieged the town, and in 1772, following the first partition of Poland, L'viv was occupied by Austria. L'viv (Lemberg) became part of the Austrian monarchy as the capital and cultural center of the Kingdom of Galicia and Lodomeria.
Austria's rule ended at the end of World War I, but for L'viv another war, the Polish-Ukrainian war began. In 1919, L'viv (Lwów) became part of Poland again. After the occupation of Poland by Nazi Germany and the Molotov-Ribbentrop pact, L'viv (L'vov) fell under Soviet control and mass deportations of Poles and Jews by the NKVD begin. During the occupation by Germany 1941–1944 the Jewish population was systematically deported and destroyed in the Holocaust. With the return of the Red Army in 1944 the deportations of the Polish population continued until 1947. Since the Declaration of Independence in 1991, Ukraine now is an independent country.
The ensemble of the historic centre of L'viv was listed as a UNESCO World Heritage site in 1998 (see also list of other UNESCO heritage sites).
The

monument for Adam Mickiewicz, a work of Antoni Popiel, was erected in 1905. Mickiewics, born 1789 in Nowogródek (today Новогрудок/Novogrudok in Byelorussia), is considered to be the greatest Polish poet and activist for Polish indepence. He died in 1855 in Constantinople.
The narrative writer, playwright and essayist, Leopold (Ritter von) SACHER-MASOCH (1836–1895) was born in L'viv. After studying law, mathematics and history in Prague and Graz, be became professor of history at the university of L'viv (Lemberg) and later started to work as a free-lance writer. He became known as a versatile writer of realistic novels and stories on his native Galicia. He was severely criticised for his pan-slavic and philosemitic tendencies, but in particular for the repeated presentation of the sexual deviation presented in his novels such as Venus im Pelz (1870; Venus in Furs trans. 1928), for which later, in 1886, the expression 'masochism' was coined. Sacher-Masoch also used the pseudonyms Charlotte Arand and Zoe von Rodenbach. He died in 1895 in Lindheim near Frankfurt am Main.

---