If you came to this page directly and do not see a navigation frame on top, please go to the home page.
| | |
| --- | --- |
| ČESKÁ REPUBLIKA | CZECH REPUBLIC |
| Ústecký kraj | Ústí nad Labem region |
| Okres: Děčín | |
map →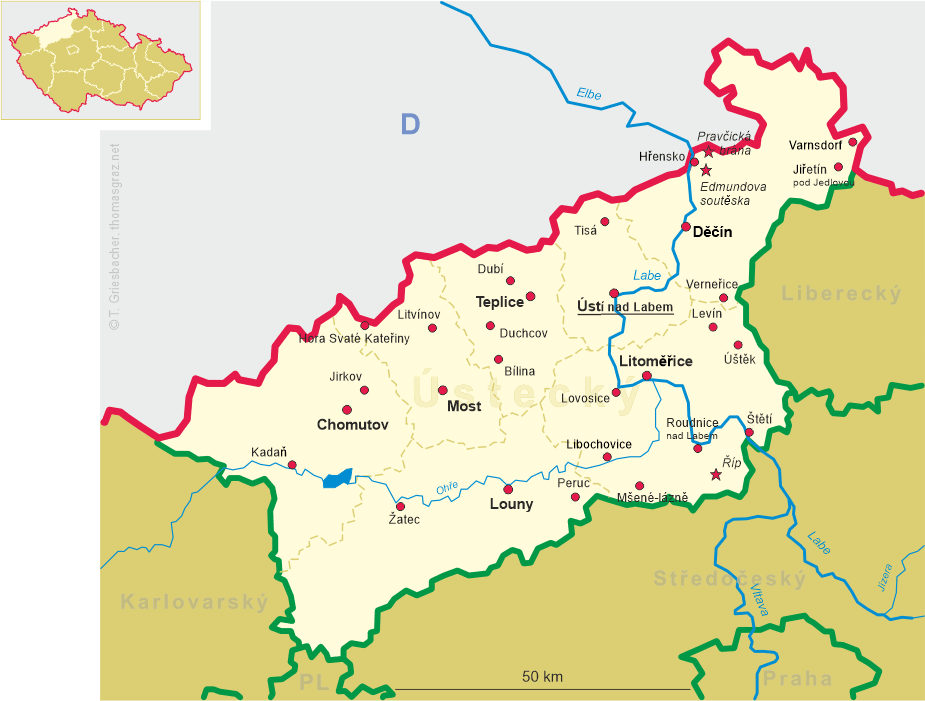 Děčín
• alt: Děčín-Podmokly
• lv: Dečīna
• lt: Dečinas, Dečynas
• de: Tetschen, Tetschen-Bodenbach
• bg, ru, uk: Дечин
• be: Дзечын
• mk, sr: Дјечин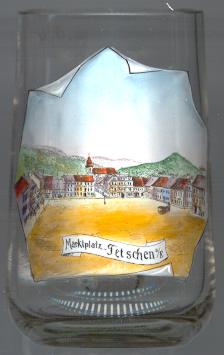 Děčín is situated at an elevation of 132 m on the river Labe (Elbe). The history of Děčín goes back to the 10th century when a castle of the Přemyslides stood on this place as a toll station. The first mention in a written document dates from 1128 (as Daczin). Prior to 1283 it obtained the status of a royal town. In 1628 Děčín came into possession of the Counts Thun, later Counts and Princes Thun-Hohenstein. Large fires destroyed great parts of the town in 1682, 1714 and 1749. Emperor Joseph II visited the town in 1778. As he found that the location was not suitable enough as a defence fortress, he ordered that a new fortress be built at Terezín (Theresienstadt). The fortifications of Děčín were pulled down during the early 19th century. In 1942 Děčín was merged with Podmokly (Bodenbach) and Staré Město (Altstadt); until 1945 the name of the town was then Děčín-Podmokly (Tetschen-Bodenbach).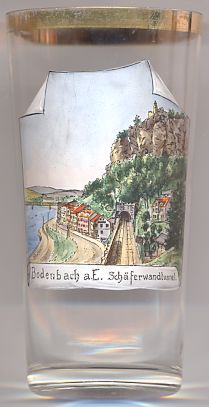 The

market square [left, no. 571] is the centre of the old town. Until 1885 the Loreto Chapel of 1670 with the vault of the Thun-Hohenstein family stood in the centre of the square. Today the square is called Masarykovo náměstí after the first President of Czechoslovakia, Tomáš Garrigue Masaryk (1850–1937). Not depicted on the glass is the fountain which was erected on the square in 1907.
The

church Svatý Václav (St. Wenceslav) [background] was built in late Baroque style after the fire of 1749.
The picture on glass no. 2208 [right] shows a view of the

railroad tunnel through the Pastýrská stena (Schäferwand, 'shepherd's wall') at Podmokly (Bodenbach).
Born in Děčín were:
Anton Kern (1709–1747) and Benedikt Kern (1713–1777), painters for the Royal Saxon Court in Dresden.
Leo Count Thun-Hohenstein (1811–1888), Minister for Education, reformed the education system in Austria-Hungary.
Miroslav Tyrš (Friedrich Emanuel Thiersch, 1832–1884), founder of the Czech gymnastic club Sokol (1862), which became an important factor in the revival of the Czech National movement.
Franz Anton Prince Thunn-Hohenstein (1847–1916), 1898–1896 governor of Bohemia, 1898/99 Prime Minister and Minister for Internal Affairs of Austria-Hungary. He tried to reach a Bohemian settlement but had to resign in 1889 for obstructing the German National parties.

---