If you came to this page directly and do not see a navigation frame on top, please go to the home page.
| | |
| --- | --- |
| ČESKÁ REPUBLIKA | CZECH REPUBLIC |
| Plzeňský kraj | Plzeň region |
| Okres: Klatovy | |
map →
Janovice nad Úhlavou
• alt: Janovice na Šumavě
• de: Janowitz, Janowitz an der Angel
• ru: Яновице-над-Углавой

Janovice nad Úhlavou is situated at an elevation of 412 m in the Šumavě (Böhmerwald) region of West Bohemia, on the right bank of the river Úlava about 8 km southwest of the district town Klatovy. The municipality has a population of about 2,300 (2019).

The oldest document mentioning Janovicium dates from 1290. At the beginning of the 16th century it temporarily became the seat of Petr Suda z Řenče, an infamous robber baron who terrorised the entire region. The castle was conquered, looted and destroyed by the troops of the cities of Klatovy (Klattau), Stříbro (Mies) and Plzeň (Pilsen). The status of a town, which Janovice held until 1950, was reinstated in 2000.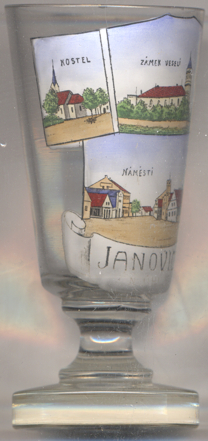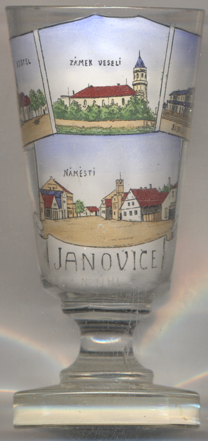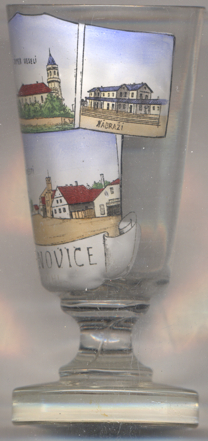 The

church of St. John the Baptist [left, no. 3646: top left picture] dates back to the late 13th century. It was remodeled in baroque style in 1764.

Veselí castle [top centre picture] was built in 1863 for count Friedrich von Stadion-Thannhausen in a site that previously had been occupied by a fort of the 14th century. The counts Stadion owned the property until 1885, thereafter the ownership changed several times. During the period of the German occupation it was confiscated as Jeewish property. After World War II it was taken over by the Czechoslovak state; however, the castle then fell into dereliction. The castle was sold into private hands in the 1990s but until now no restoration works have been carried out.
The top right picture shows a view of the

railway station, built as part of the railway line from Plzeň via Dobřy, Klatovy, Janovice, and Nýrsko to Železná_Ruda which was opened in 1888. A branch line from Janovice via Kdyně to Domažlice opened in the same year.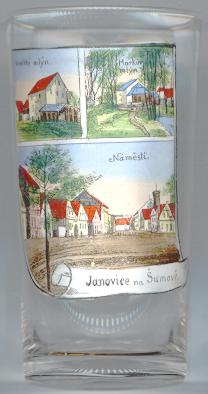 The two pictures on the top of glass no.ʀ [near left] show the views of the water mills

Veselský mlýn (Veselí mill) [top left] and

Markův mlýn (marker mill) [top right].
The pictures on the lower parts of both glasses show the same view of Janovice's

market square (náměstí).

[https://de.wikipedia.org/wiki/Janovice_nad_Úhlavou; https://de.wikipedia.org/wiki/Bahnstrecke_Železná_Ruda–Plzeň]

---