If you came to this page directly and do not see a navigation frame on top, please go to the home page.
| | |
| --- | --- |
| ČESKÁ REPUBLIKA | CZECH REPUBLIC |
| Vysočina | Highlands (Jihlava) region |
| Okres: Pelhřimov |   |
map →
Humpolec
• lt: 
Humpolecas • de: 
Humpoletz, Gumpolds
• ru: 
Гумполец

Humpolec was founded in the 12th century on an old pathway which lead from Prague to the Premonstratensian monastery of Želiv (Seelau) and to Jihlava in Moravia. Between the 13th and the 15th century, silver was mined here. During the 15th century, the area of Humpolec was one of the central regions of the Hussites, the followers of the religious reformer Jan Hus. For centuries the cloth making was an major economical factor for the population. During the 19th century the cloth industry became so important that Humpolec was also nicknamed the 'Czech Manchester'.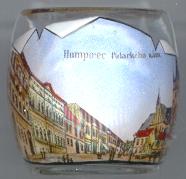 The town's dominant structure is the

church of St. Nicholas [right, barely visible]. It was completed in 1233.
Gustav MAHLER (1860–1911), one of the most important conductors and composers of the late 19th and early 20th century, was born in Kalištì (Kalischt), a few kilometres north of Humpolec. Mahler started his career as conductor 1880 in Bad Hall, Ljubljana and Olomouc. From 1883 to 1888 he was conductor in Kassel, Prague and Leipzig. 1888–1891 he was director of the opera in Budapest, 1891–1897 theatre conductor in Hamburg. 1898–1907 he was director of the State Opera in Vienna, from 1908 conductor of the Metropolitan Opera in New York. In 1909 he became musical director of the New York Philharmonic Society. Shortly before his death in 1911 he returned to Vienna.

---