If you came to this page directly and do not see a navigation frame on top, please go to the home page.
| | |
| --- | --- |
| DEUTSCHLAND | GERMANY |
| Bundesland: Freistaat Sachsen | Saxony |
| Landkreis: Erzgebirgskreis | |
map →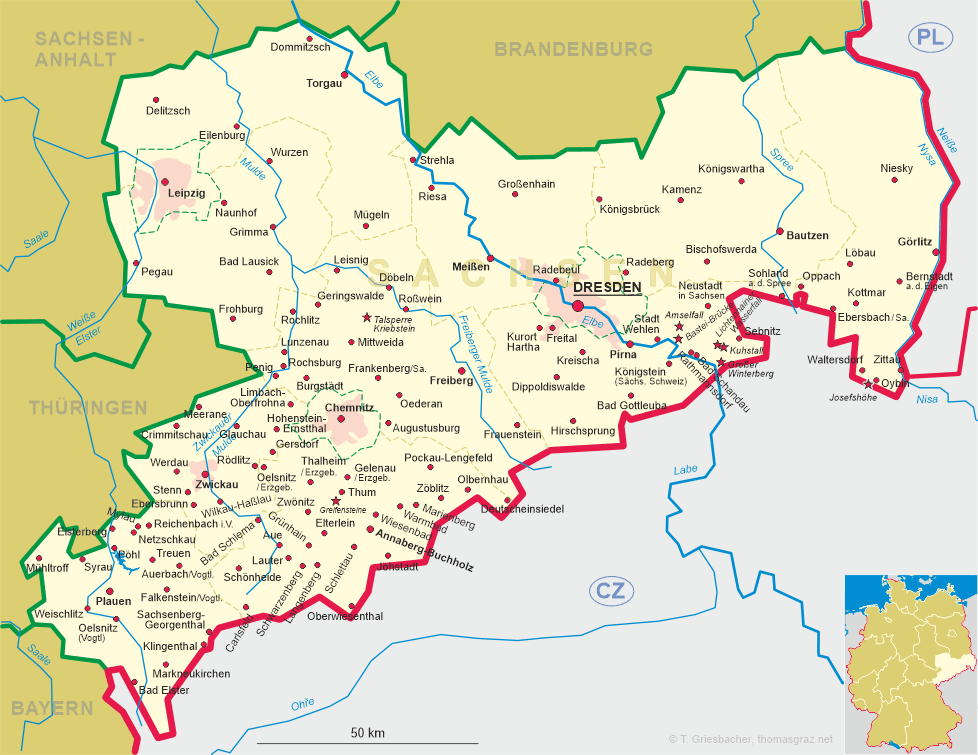 Oberwiesenthal
• ru: Обервизенталь
Oberwiesenthal is situated at an elevation of 914 m at the foot of the mountain Fichtelberg (1214 m) and is Gernany's highest-lying town. The first settlement in the area of Oberwiesenthal was already mentioned in 1406. Wiesenthal (today Loučna, Böhmisch-Wiesenthal) was mentioned in 1431 (as Wyzenthal). In 1525 the border between Saxony and Bohemia was set at the stream Pölbach/Polaya. Due to the rich deposits of tin and silver in the mountains f the area, a new settlement, Neustadt Wiesenthal, was founded in 1527 and obtained the status of a town in 1530. At the same year it became the seat of the mining administration of the area. Today, Oberwiesenthal is a center for winter tourism. Since 1935 Oberwiesenthal officially has the status of a 'Kurort' (spa). One of the most popular sportsmen of Germany, the ski jumper Jens Weißflog, is a native of Oberwiesenthal.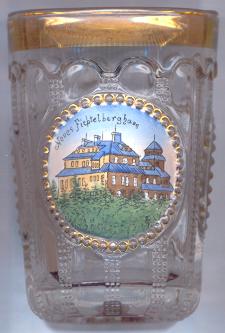 Already in 1845 a look-out tower was built on the summit of the Fichtelberg (1214 m). The first firm hut was built in 1847. The new

Fichtelberghaus [left] was built in 1888 and was enlarged in 1899 and 1910 (the glass shows the Fichtelberghaus after the latter enlargement). This building, however, was completely destroyed by a large fire in 1963. A modern building was erected in its place in 1965–1967. Between 1997 and 1999 the Fichtelberghaus was partly torn down and largely reconstructed and now again serves as a restaurant. Since 1924 a cable-car takes tourists up to the Fichtelberg. The first large ski-jump on the Fichtelberg was opened in 1938, the new ski-jump was opened in 1974.
The back side of the glass shows the Klínovec (Keilberg) mountain near Boží Dar (Gottesgab) in the Czech Republic.

---