If you came to this page directly and do not see a navigation frame on top, please go to the home page.
| | |
| --- | --- |
| ČESKÁ REPUBLIKA | CZECH REPUBLIC |
| Plzeňský kraj | Plzeň region |
| Okres: Tachov |   |
map →
Přimda
• de: 
Pfraumberg
• ru: 
Пршимда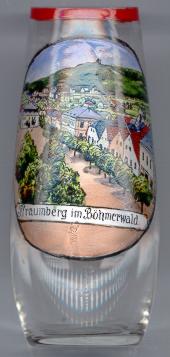 Přimda is situated at an elevation of 700 m at the foot of the Přimda (Pfraumberg) mountain (848 m) in the Tachov district of West Bohemia. A first settlement seemed to have been located here already in the 10th century. The town itself began to develop in the early 14th century. Already in 1331 it obtained the status and privileges of a town. Since 1675 it was in possession of the Counts Novohradští z Kolowrat. In 1945 the town was heavily damaged by bomb raids. Přimda lost its status as a town in 1948 but regained it in 1998.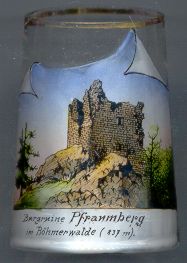 The

castle on the Přimda (Pfraumberg) mountain [right] was already mentioned in 1126 and is said to be the second-oldest stone castle in Bohemia. It has served several times as a dungeon for state prisoners. Among its prisoners were the later Duke Sobìslav II (1148–1150 and 1161–1173) and the later King Přemysl Otakar II (in 1247). The castle was remodelled in the 14th century and was conquered by the Hussites in 1427. After 1592 the castle fell into dereliction.

---