If you came to this page directly and do not see a navigation frame on top, please go to the home page.
| | |
| --- | --- |
| DEUTSCHLAND | GERMANY |
| Bundesland: Baden-Württemberg | |
| Regierungsbezirk: Karlsruhe | |
| Landkreis: Calw | |
map →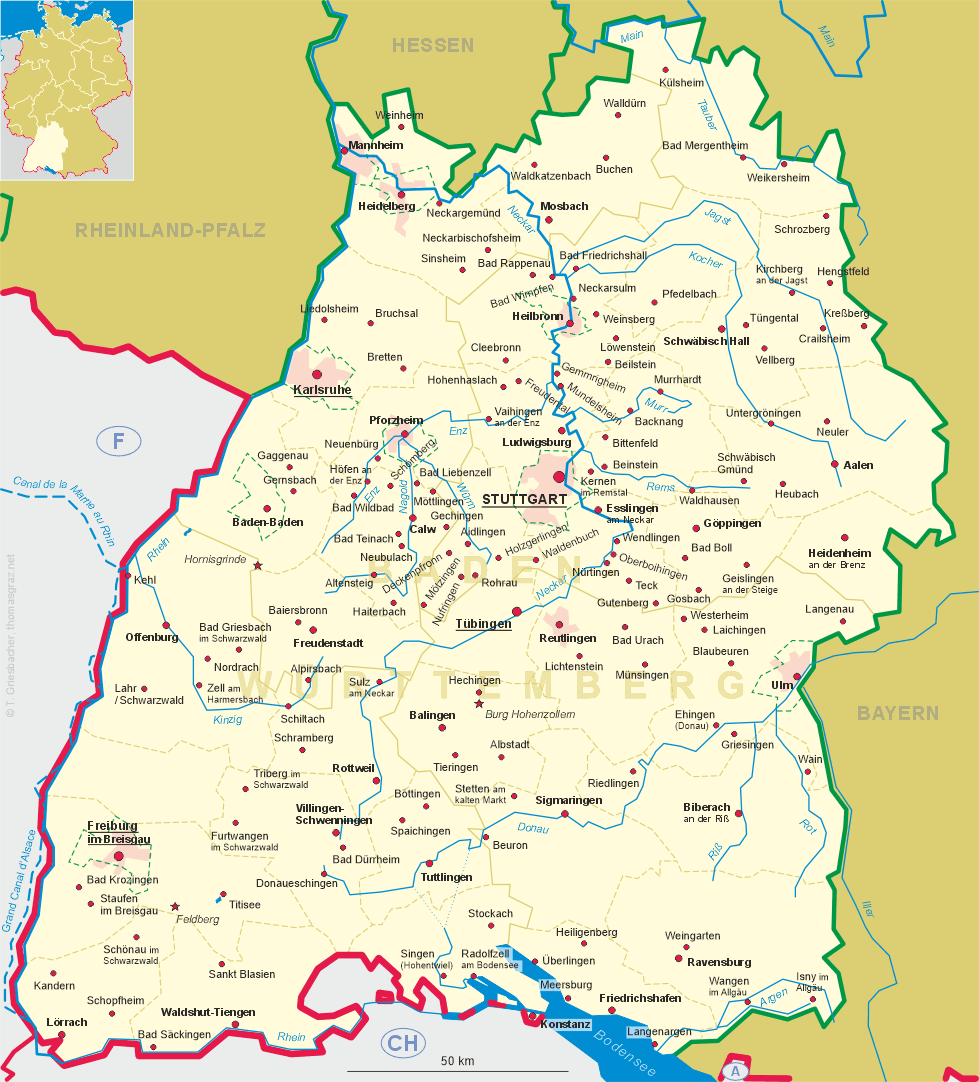 Bad Wildbad
• prev.: Wildbad im Schwarzwald
• sr: Бад Вилдбад • ru: Бад-Вильдбад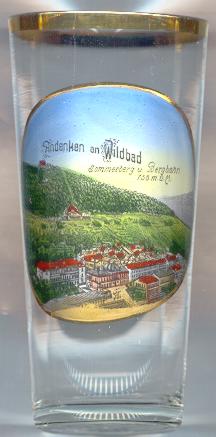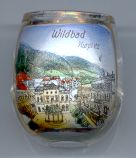 Bad Wildbad is situated at an elevation of 426 m in the valley of the river Enz. It is one of Baden-Württemberg's oldest spa towns. A well with a bathing trough dating from the 12th/13th century was dicovered in 1904. The oldest mention of a place named Wiltbade dates back to 1345, but this in fact may have been a reference to Bad Tainach. The first secure documented mentionings of Wildbad itself date from 1365/67 and 1376. Wildbad was a well-known spa already in the 15th century. The spa continued to grow throughout the following centuries. The thermal waters (34–41°C) contain low concentrations of radon and are used for the treatment of rheumatic diseases, gout, and nervous disorders. A funicular onto the Sommerberg mountain (784 m) [background] was built in 1908. Neighbouring communities were incorporated into the municipality in 1974. on that occasion the name of the municipality was changed to Bad Wildbad. Along with Baden-Baden, Bad Wildbad today is one of the most popular spa towns in the northern Schwarzwald (Black Forest) region.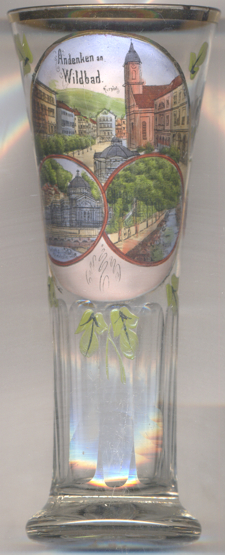 The Protestant

town church [near left, no. 3550: top picture] was built in 1746–1750 in late Baroque style by Johann Christoph David von Leger.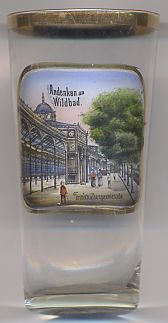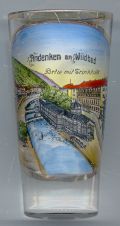 The

(old) Trinkhalle [near left] was built in 1836. In 1933/1934 the cast-iron construction was replaced by a new building.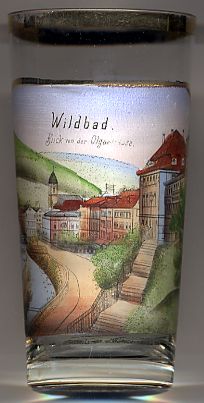 Glass no. 2611 [near left] shows a view of the street

Olgastraße which is named for Queen Olga Nikolajewna Romanowa, wife of King Karl I of Württemberg.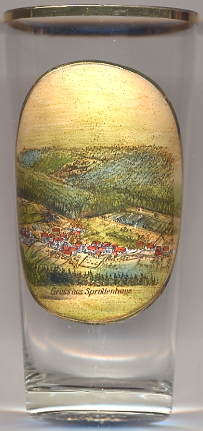 The hamlet Sprollenhaus [near left] is located about 2 km south of the town centre of Bad Wildbad and is part of the town district Wildbad. A document of 1560 mentions a forester's lodge being set up in the Spolenwaser-Hut. In 1594 and 1624 the hamlet was mentioned as Spollenhauß.

---