If you came to this page directly and do not see a navigation frame on top, please go to the home page.
| | |
| --- | --- |
| DEUTSCHLAND | GERMANY |
| Bundesland: Rheinland-Pfalz | Rhineland-Palatinate |
| Landkreis: Rhein-Hunsrück-Kreis | |
map →
Sankt Goar
• sr: Санкт Гоар
• ru: Санкт-Гоар
Sankt Goar, situated at the left bank of the river Rhine, was already inhabited in Roman times. The name goes back to Saint Goar who came to this place around AD 550 and founded a Christian hospice for travellers and for the poor. His tomb became a famous place of worship and pilgrimage.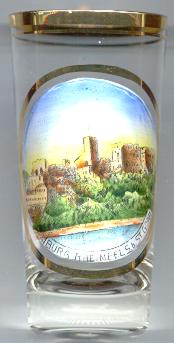 The

castle Rheinfels was founded in 1245 by Count Dieter V of Katzenelnbogen to secure the toll stations on the Rhine at Sankt Goar and Sankt Goarshausen. After the death in 1567 of Landgrave Philipp I of Hesse, the country was divided among his four sons and Rheinfels became the residence of the landgraviate of Hesse-Rheinfels. However, the first landgrave, Philipp II of Hesse-Rheinfels, died without heir in 1583, and the landgraviate (together with the lower county of Katzenelnbogen) was divided between the lines Hesse-Kassel, which received the major part of the country, and Hesse-Darmstadt and Hesse-Marburg. During that period the castle was remodelled in Renaissance style. In 1692, Rheinfels was the only fortress on the left bank of the Rhine to withstand the French troops. However, hundred years later, in 1794, it had to be handed over to the French who demolished large parts of the castle in 1796/97.

---