If you came to this page directly and do not see a navigation frame on top, please go to the home page.
| | |
| --- | --- |
| ČESKÁ REPUBLIKA | CZECH REPUBLIC |
| Ústecký kraj | Ústí nad Labem region |
| Okres: Litoměřice | |
map →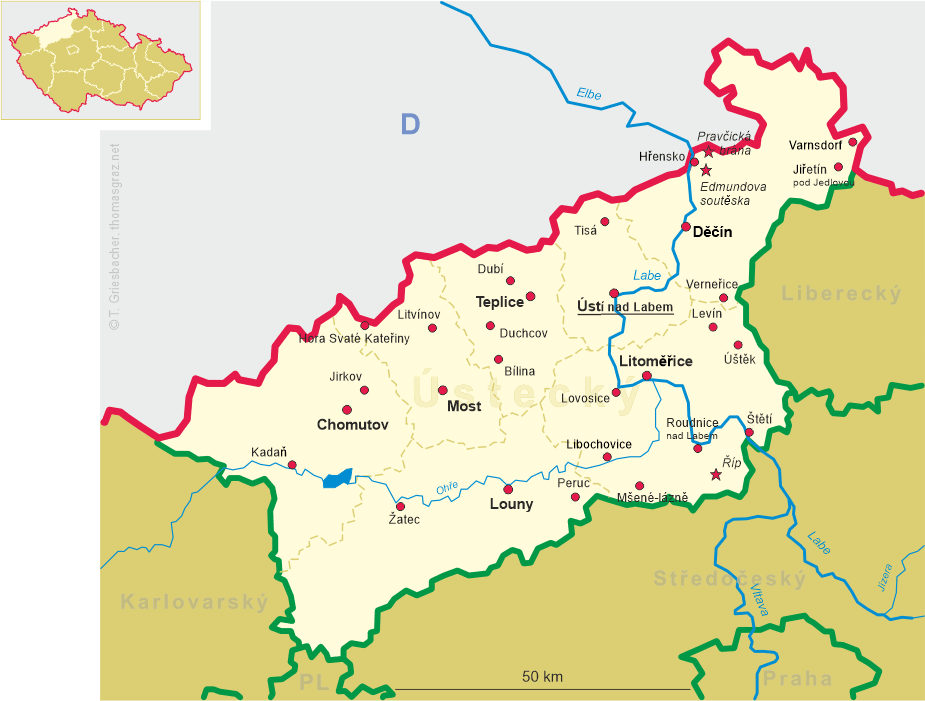 Roudnice nad Labem
• de: Raudnitz an der Elbe
• pl: Roudnice nad Łabą
• ru: Роуднице-над-Лабем
Roudnice nad Labem is situated at an elevation of 175 m on the river Labe (german: Elbe). The first mentionings in written documents date back to the mid 12th century (in 1194 it is mentioned as property of the bishops of Prague). Since 1237 it has the statuts of a free town. The Augustinian convent was founded in 1333. From the end of the Hussite Wars in the 15th century until the 17th century the secular owners of Roudnice changed frequently. Since 1603 it was in possession of the Lobkowicz family. The patrimony of Roudnice existed until 1850. From then on Roudnice developed into a modern town.

The

castle of Roudnice [left] originated as a Romanesque castle around 1250. After several reconstructions and enlargements the castle was remodelled in Baroque style (the first Baroque project in North Bohemia) between 1652 and 1684 under Prince Václav (Wenzel) Eusebius of Lobkowicz and the architect Francesco Caratti. Many pieces of the Lobkowicz art collection are now in the National Gallery in Prague. The vast library also was transferred to Prague in 1945 and is part of the Czech State Library (Lobkowicz Archive). In 1805 the castle was the place of the first performance of Joseph Haydn's oratorio 'Die Schöpfung' ('The Creation'). Another event took place much earlier, in 1350: Cola di Rienzo (original name Nicola di Lorenzo), the popular italian leader who tried to restore the greatness of ancient Rome, tried to enlist the aid of Emperor Karl IV, but the Emperor handed him over to the Archbishop of Prague. Cola di Rienzo remained incarcerated in the old castle of Roudnice until 1352 when he was handed over to Pope Clemens VI in Avignon. Rienzo later became the subject of literature and song, including a novel by the English novelist E.G.E. Bulwer-Lytton (1835) and an opera by Richard Wagner (1842), both entitled 'Rienzi'.
The

provost church of the Nativity of Our Lady [right, far right] originated as a Romanesque church in 1296. The present church, erected in Gothic style in 1333–1343, was remodelled in Baroque style in 1725–1734 by Octavian Broggio. Treasures of the church are a magnificent Gothic winged altar and a series of paintings of the Suffering and Resurrection of Our Lord from 1622.

---