Осієк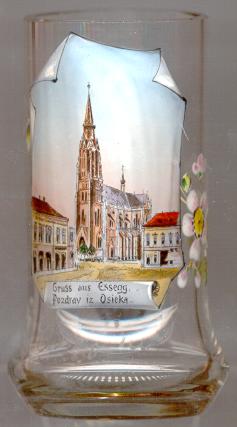 Osijek is situated at an elevation of 94 m on the right bank of the river Drava and is the administrative and economic centre of Eastern Croatia (Slavonia and Baranja, Osjeèko-baranjska županija). Traces of human settlements in the area of Osijek go back to neolithic times, and the first known inhabitants belong to the Illyrian tribes. The Roman emperor Hadrian raised the old settlement of Mursa to a colony with special privileges in AD 331 (Mursa maior). After that, Mursa had a turbulent history and after the times of the Migrations Period nothing but ruins was left. When the first Croats settled in the area, they gave it its present-day name. The first mentioning in a document is found in a papal list of tithes from 1332. The medieval town was destroyed almost completely when the Turks arrived. Suleiman the Magnificent built his famous 8 kilometer long wooden bridge across the Drava river. After the liberations from the Turks in 1687, the new Austrian authorities built a new fortress between 1712 and 1721, known as Tvrđa (Tvrdja). The three parts of the town, the Lower Town, Tvrđa, and the Upper Town were united in 1786, and Osijek became the administrative center of Slavonia. During the war between the new Republic of Croatia and the Serb forces in 1991–1995 Osijek suffered heavy damages.
The

church of Saint Peter and Paul [centre] is the largest church in Osijek. Due to its size (its spire is 90 m high) it is often called 'cathedral' although it is only a parish church; the real seat of the bishop is in Đakovo (Djakovo). The Neo-Gothic church was built at the end of the 19th century.
Josip Juraj Strossmayer (1815–1905) was born at Osijek. Strossmayer was lecturer in theology and chaplain to the Austrian Emperor before he was installed as bishop of Đakovo in 1850. He fostered the growth of Slavonic nationalism in Croatia-Slavonia, in Dalmatia, and among the Slovenes of south Austria, and later became a recognized leader of the opposition to Hungarian predominance over Croatia. Strossmayer helped reorganize the whole educational system of Dalmatia and Croatia-Slavonia. He was a leading opponent of papal infallibility at the First Vatican Council (1869–1870), and also worked for a reunification of Roman Catholic and Russian Orthodox churches.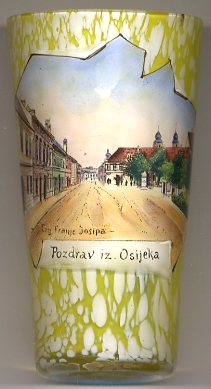 The picture on glass no. 2845 is labeled

Trg Franje Josipa ('Francis Joseph Square'). The sqaure is one of the oldest in Osijek's section of Tvrđa, being laid out in the early 18th century and at first was called 'Wine Square' as it was a market place for wine from the Baranya region. In 1729, a Trinity column was erected. In 1898 it was renamed for Emperor Franz Joseph I of Austria on the occasion of his 50th anniversary as Emperor of Austria and King of Hungary (including Croatia). Between the two World Wars it was named St. Peter's Square and later Trinity and Karađorđev Square. After World War II it was named Partisan Square. In 1992 it was finally renamed Trg svetog Trojstva (Trinity Square). [http://hr.wikipedia.org/wiki/Tvrđa]
The

church of St. Michael (crkva svetog Mihaela) [background right] was founded in 1725 on the foundations of the former Kasimpaša mosque which had been built during the Ottoman period in Osijek. In 1734 the first Mass was held in the unfinished church. In 1750 the church was dedicated to Saint Michael. It was finished in 1768.
[http://en.wikipedia.org/wiki/Church_of_Saint_Michael,_Osijek] [http://en.wikipedia.org/wiki/Church_of_Saint_Michael,_Osijek]

---