If you came to this page directly and do not see a navigation frame on top, please go to the home page.
| | |
| --- | --- |
| DEUTSCHLAND | GERMANY |
| Bundesland: Baden-Württemberg | |
| Regierungsbezirk: Stuttgart | |
| Landkreis: Main-Tauber-Kreis | |
map →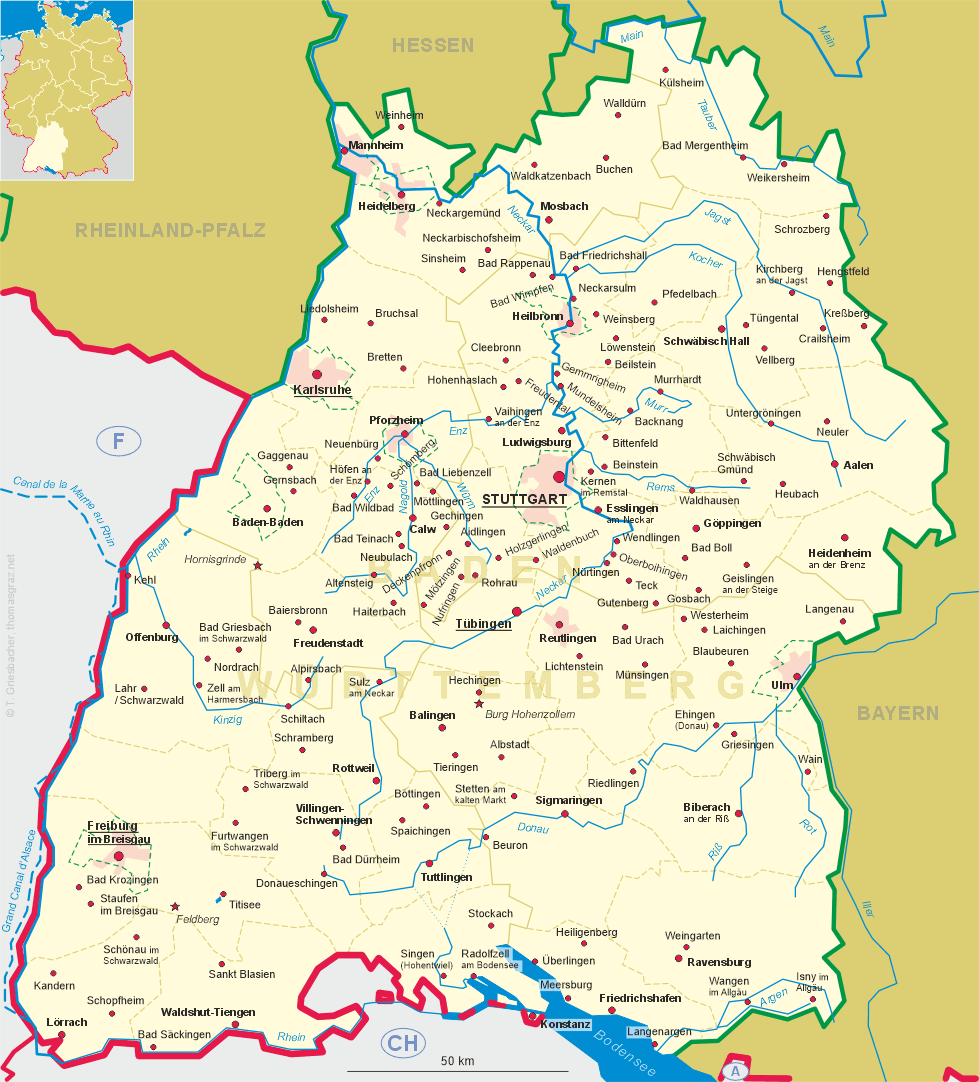 Bad Mergentheim
• lt: Bad Mergentheimas
• lv: Bādmergentheima
• uk: Бад-Мергентгайм
• bg: Бад Мергентхайм
• ru: Бад-Мергентхайм
• sr: Бад Мергентхајм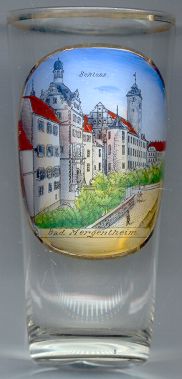 Bad Mergentheim is situated in the valley of the river Tauber in northern Baden-Württemberg. The first mention of Mergintaim dates from 1058.
The

castle [left] came into possession of the Teutonic Order in 1219. During the following centuries, the place became a splendid residence of the Teutonic Order. In 1340, Mergentheim received the status of a town. After the last Grand Master (Hochmeister) of the Teutonic Order, Albrecht II of Brandenburg-Ansbach, had transformed the Prussian countries of the order into a duchy (Duchy of Prussia with residence in Königsberg (now Kaliningrad) in 1525, the Teutonic Master (Deutschmeister), Walter von Cronberg, from then on Grand and Teutonic Master (Hoch- und Deutschmeister), took his residence in Mergentheim. Until 1809, Mergentheim remained the main seat of the Teutonic Order. After the Napoleonic Wars, Mergentheim became part of the Kingdom of Württemberg in 1809.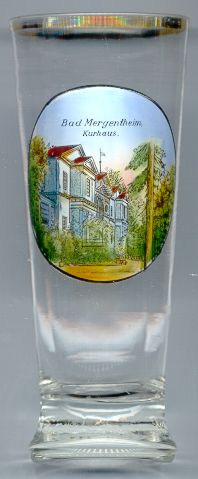 The first mineral spring (Wilhelmsquelle) was discovered in 1828, the second spring (Karlsquelle) was found in 1828. The predicate Bad (spa) was awarded in 1926. Today, Bad Mergentheim is the largest spa in Württemberg and the fifth-largest in Germany. Treatments are offered for endocrine diorders, liver, bone and joint diseases.
The famous german poet Eduard Mörike (1804–1875) lived in Mergentheim between 1844 and 1851.
Glass no. 1140 [near left] shows a view of the

Kurhaus.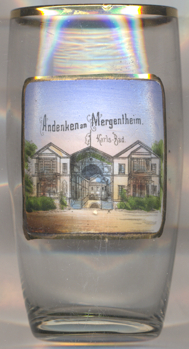 Glasses no. 3535 [near left] and no. 999 [right] show views of the

Karlsbad.

---