---
| | |
| --- | --- |
| glasses of | unknown origin |
|   |   |
H E L P !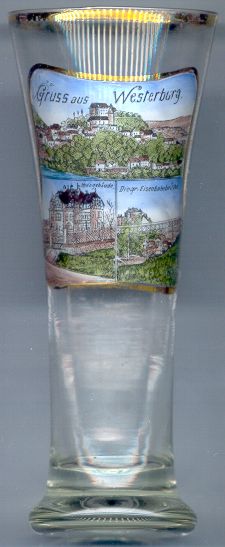 Westerburg (D)

I am looking for information ablout the building depicted on the bottom left picture on this glass from Westerburg, Rhineland-Palatinate, Germany. The building is labeled "Heilsgebäude".

If you have more information, please let me know.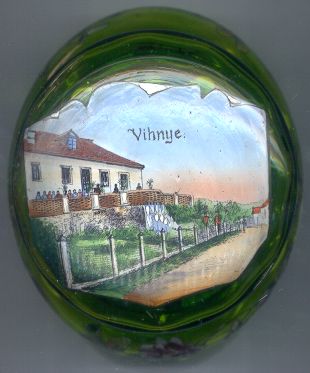 Vyhne (SK)
I am looking for historical information on the town of Vyhne (Vihnye in Hungarian, Eisenbach in German) in central Slovakia. There is a text on its history on the town's website (http://www.vyhne.sk/ > Obec > Z histórie) but as I unfortunately don't speak any Slovak I can't translate it. There is another, a little longer, text on thehistory of the bath (http://www.vyhne.sk/ > Obec > Bývalé kúpele) and the town's geography (http://www.vyhne.sk/ > Obec > Trochu zemepisu) which would also be of great interest to me.
If you can send me a rough translation (English, German or French) I would be most grateful! Many thanks in advance. send mail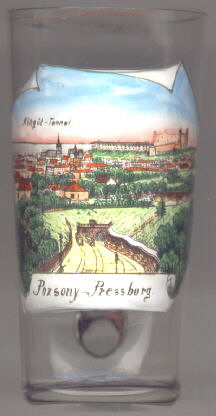 Bratislava (SK)
The picture on glass no.385 from Bratislava shows a rail tunnel. I could not determine which tunnel this could be. Judging from the background, the tunnel should be located east or northeast of the castle and the cathedral St. Martin. If you have more information please send mail.

Landshut (D)
The picture on glass no.2267 is labeled "Partie beim Schillerdenkmal" (area at the monument for Friedrich Schiller). It seems that the monument is depicted on the far left side of the picture. Unfortunately, I could not find information on this monument. Please contact me if you know more about this monument for the great German poet.

---