| | |
| --- | --- |
| SCHWEIZ / SUISSE / SVIZZERA / SVIZRA | SWITZERLAND |
| Waadt / Vaud / Vaud / Vad | |
map →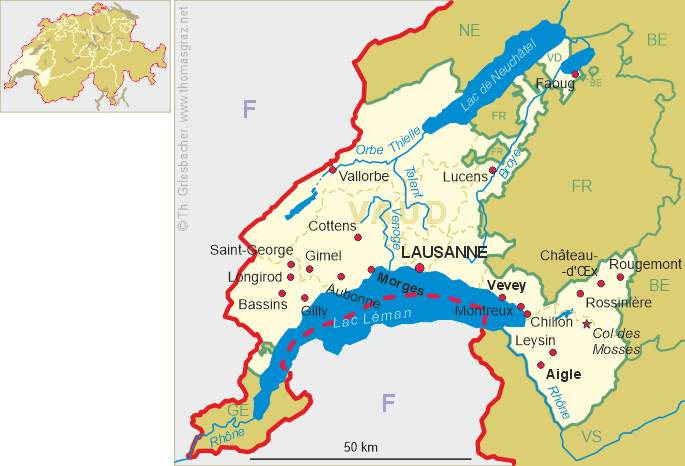 Faoug
• de: Pfauen
• ru, uk: Фу
Faoug is situated at an elevation of 449 m on the south shore of Lake Murten, about 4 km southwest of Murten, about 15 km northeast of the district town Payerne, and about 56 km northeast of Lausanne, the capital of canton Vaud. As of 31 December 2022, the municipality has a population of 907.
The place was firt mentioned in a written document in 1228 as Fol, which in Old French means 'beech' or 'beech forest'; this in turn comes from the Latin fagus. The German name Pfauen, first mention in 1250 as apud Phawen preserves the Old Provençal sound [faw]. Early on in folk etymology it was reinterpreted as a peacock (German: Pfau), which is reflecged in the village coat of arms, which shows a peacock on the left and a beech tree on the right. Since the Middle Ages, Faoug, along with Avenches, belonged to the Bishop of Lausanne. With the conquest of Vaud by Bern in 1536, the village came under the administration of the Bailiwick of Avenches. After the collapse of the Ancien Régime, Faoug was annexed to the canton of Fribourg in 1798 during the Helvetic period. When the Act of Mediation came into force in 1803, the village, together with today's Avenches district, was again assigned to the canton of Vaud as an exclave.
The core of the reformed

parish church dates back to the 12th century. Only the Romanesque choir remains from this period, the remaining parts come from the numerous later renovations and new buildings.

[https://de.wikipedia.org/wiki/Faoug]

---