| | |
| --- | --- |
| DEUTSCHLAND | GERMANY |
| Bundesland: Rheinland-Pfalz | Rhineland-Palatinate |
| Landkreis: Rhein-Lahn-Kreis | |
map →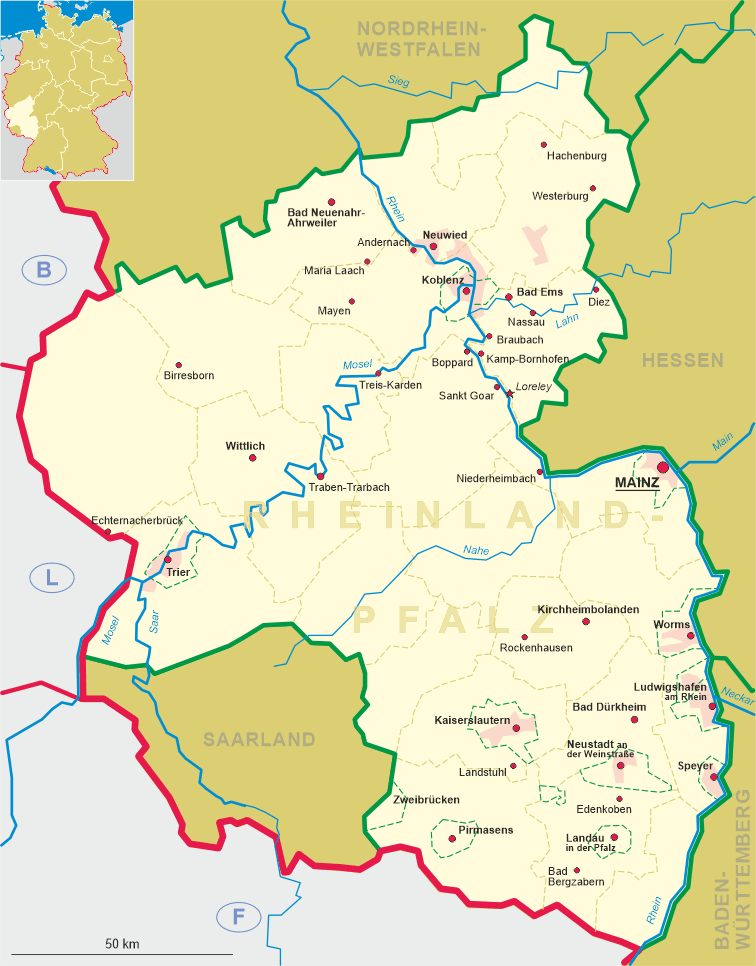 Kamp-Bornhofen
• uk: Камп-Борнгофен
• ru, sr: Камп-Борнхофен
Kamp-Bornhofen is situated at an elevation of 69 m on the right bank of the river Rhine in the Rhein-Lahn district of Germany's state of Rheinland-Pfalz, about 10 km south of Koblenz and about 14 km southwest of the district town, Bad Ems. The municipality has a population of about 1,600 (2021) and is part of the administrative union Loreley (with seat in Sankt Goarshausen).
Bornhofen was first mentioned in a written document in 949 AD, Kamp (Cambo)) in the 11th century. Together with Boppard the area became part of the electorate of Trier in 1327. Following the Reichsdeputationshauptschluss of 1803 the ecclesiastical states were dissolved and Kamp became part of the newly founded Duchy of Nassau (confirmed by the Congress of Vienna in 1814). As part of Nassau, the area was annexed by Prussia in 1866. In 1936 the name of the town was officially changed from Camp to Kamp, and in 1939 to Kamp (Rhein). Since 1947 it is part of Germany's state of Rheinland-Pflaz (Rhineland-Palatinate). In 1948 the town council applied for a change of its name to Kamp-Bornhofen. An application in 1949 to acquire the status of a town, however, was turned down. Until 1969 it was part of the Loreley district, which then was merged with the Unterlahn district into the present district Rhein-Lahn. In 1972 Kamp-Bornhofen became part of the administrative union (Verbandsgemeinde) Braubach (Braubach, Dachsenhausen, Filsen, Kamp-Bornhofen, Osterspai). In 2012 the administrative union Braubach merged with the former administrative union Loreley (Auel, Bornich, Dahlheim, Dörscheid, Kaub, Kestert, Lierschied, Lykershausen, Nochern, Patersberg, Prath, Reichenberg, Reitzenhain, Sankt Goarshausen, Sauerthal, Weisel, Weyer). The administrative union is named after the famous rock formation Loreley, located about 14 km upstream on the river Rhine.
The two castles (ruins)

Burg Sterrenberg [left, no. 0000: background left] and

Burg Liebenstein [background right], popularly called the die feindlichen Brüder ('the enemy brothers'), are located next to each other above Bornhofen. Sterrenberg already was founded in the 11th century, while Liebenstein was built between 1284 and 1290. Accorcing to the legend two brothers fought here for the love of a woman. The legend is the basis of the poem Zwei Brüder ('Two Brothers') by Heinrich Heine.
The pilgrimage

church of Our Lady [centre] is part of the Franciscan monastery of Bornhofen. The church was first mentioned in 1224. The present church was built between 1400 and 1435. The Franciscan order moved into the monastery in 1890.

[https://de.wikipedia.org/wiki/Kamp-Bornhofen; https://de.wikipedia.org/wiki/Verbandsgemeinde_Braubach, https://de.wikipedia.org/wiki/Verbandsgemeinde_Loreley_(1972%E2%80%932012); https://de.wikipedia.org/wiki/Rhein-Lahn-Kreis]

---